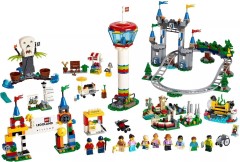 Having been spotted in the LEGOLAND Billund store last week, 40346 LEGOLAND will be available in the Windsor park from today, according to its Twitter feed, and it's likely that you'll find it in the shops at the Manchester and Birmingham discovery centres, too.
The 1336-piece set was designed by Mel Caddick and includes 11 minifigures. It retails for 999DKK in Denmark and £79.99 in the UK. The US price has not yet been confirmed but is likely to be $99.
I had it in my hands yesterday in Denmark but I just couldn't bite: It's very expensive in my view and I've gone off sets that consist of a multitude of small disconnected sections that do not look good on display. Besides, there was no room in my suitcase...
Update: It seems that the price has been inflated somewhat in Denmark following the set's initial popularity. Originally it was 799DKK, as evidenced by a photo taken of the empty shelf shortly after it was released. What a swindle...