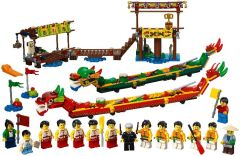 Scores of new sets are being released today on both sides of the Atlantic, including DUPLO, City, Friends, NINJAGO, Jurassic World, Creator, Harry Potter, Architecture (21046 Empire State Building and 21045 Trafalgar Square), 10266 NASA Apollo 11 Lunar Lander and last but certainly not least 80103 Dragon Boat Race which, at £44.99, is a bit of bargain. As I write it's not listed in the USA and Canada but might be by the time you read this.
Here are direct links to shop.LEGO.com:
My recommendation would be to order 80103 Dragon Boat Race ASAP as it might not last long, particularly at that price.
Furthermore, an exclusive Lunar Module patch is currently available to LEGO VIP members with purchases of 10266 NASA Apollo 11 Lunar Lander.
Remember, when you purchase through our links you help keep us online and free of ads for members.
Thank you!