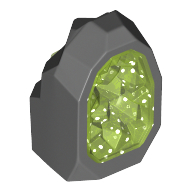 LEGO has published inventories for the majority of summer 2019 sets, containing an impressive selection of new elements. These include a geode in LEGO City and numerous new Technic pieces which are found in 45678 SPIKE Prime Set.
You can view a list of new pieces and elements appearing in new colours here. Other highlights include some new vibrant coral parts and an unusual robot head that appears in Friends sets.
Which of these new parts or recolours are you most looking forward to using in your own creations? Let us know in the comments.