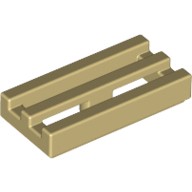 I'm currently building 21046 Empire State Building (look out for my review soon) and was astonished by the number of tan 1x2 grille tiles it contains: 684 of them in fact.
That got me thinking, is that a record for the quantity of a single piece that appears in a set? It's actually not that easy to find out...
The reason it's not so easy to determine is that the inventories that LEGO publish max out at 200 of any one piece for some reason, so our inventory data, which we obtain from there, won't help.
I therefore headed to BrickLink to do some research there. The community-generated inventories there tend to be more accurate but I don't think there's a way to find out what I'm looking for without having some idea of likely candidates and manually checking.
I recall that 10214 Tower Bridge contained hundreds of tan 1x1 cheese slopes, but how many? 556, it turns out, so that doesn't beat 684.
Large Technic sets often contains hundreds of pins, particularly the black 2l friction pin, so there's another place to check. It's easy to see which sets contain the most by sorting the list at BrickLink and it turns out that 42055 Bucket Wheel Excavator, the second largest Technic set to date, contains 724 of them, which might therefore be the record.
Unless, that is, you know better? Can you think of any other sets that contain hundreds of the same piece? More that 724? Let us know in the comments.