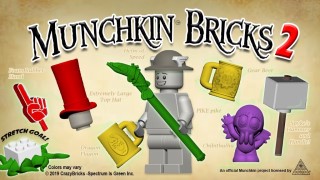 I must have been living under a rock or something because I have no clue what this press release is about, but judging by the success of the first campaign in 2014, I must be in a minority.
Anyway...
CrazyBricks is excited to announce the launch of Munchkin Bricks 2, our latest Kickstarter project!
We're offering even more Munchkin-inspired custom accessories for your favorite miniature figures, like the Excessively Large Top Hat, Chibithulhu, Spyke's Hammer, delectable flagons and tankards, and Shakespeare's Pike, as well as an exclusive Munchkin card and a bookmark included with every pledge!
We are proud to be partnering again with Steve Jackson Games for this Kickstarter campaign.
Our new Kickstarter project includes a variety of detailed, high-quality, colorful collectible treasures to add to your collection, plus plenty of amazing stretch goals, but we need your support to make it all happen!