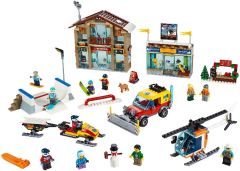 Images of 60203 Ski Resort have been revealed on Lucky Bricks. This interesting City set contains 806 pieces along with eleven minifigures! It costs €79.99 in Germany which will presumably equate to approximately £79.99 or $89.99.
I presume this set will become available during September as Lucky Bricks suggests that it will be delivered in just over a month. You can view its packaging and some further information after the break...
Prepare your warm clothes and make the track dangerous - with the LEGO City Play Set "Ski Resort". Show off your tricks in the snow park's halfpipe and rail, or pretend to watch other snowboarders being filmed by the helicopter and shown on the big toy screen above the ski shop. Look! The rescue team is using the snowmobile to bring an injured skier to the rescue station. Build a snowman with your friends and then warm up with a hot drink from the nearby booth. Mmmm! This cupcake looks delicious! After you've warmed up, there's plenty of fun in the snow waiting for you!
Includes 11 LEGO City minifigures - 3 ski patrol members, a ski shop salesman, a helicopter pilot, a skier, a snowboarder, 2 children, a beverage vendor and a customer - as well as a dog figure and a snowman figure to assemble.
This great construction toy includes a two-story rescue station with rooftop communication antennas, a ski shop with a large screen and a shelf for snowboards and skis, a hot drinks and cupcakes stand, a fantastic snow park with floodlight mast, halfpipe with stairs and a separate rail.
In addition, this children's kit includes an all-wheel truck with a movable snow plow and roof rack, a snowmobile with a trailer and a helicopter with a hinged cockpit, rotatable rotors and a camera.
The accessories include 4 pairs of skis, 3 pairs of ski poles, 4 snowboards, 4 cups, 2 cupcakes, a syringe element, a hand plaster, 2 ice axes, binoculars, 2 radios, 2 buckets, a tool / first aid box, one wrench, an axe, a circular saw, a broom, snowshoes, a helmet with ski goggles, a warm hat and a stretcher, as well as signage to assemble and a brick separator.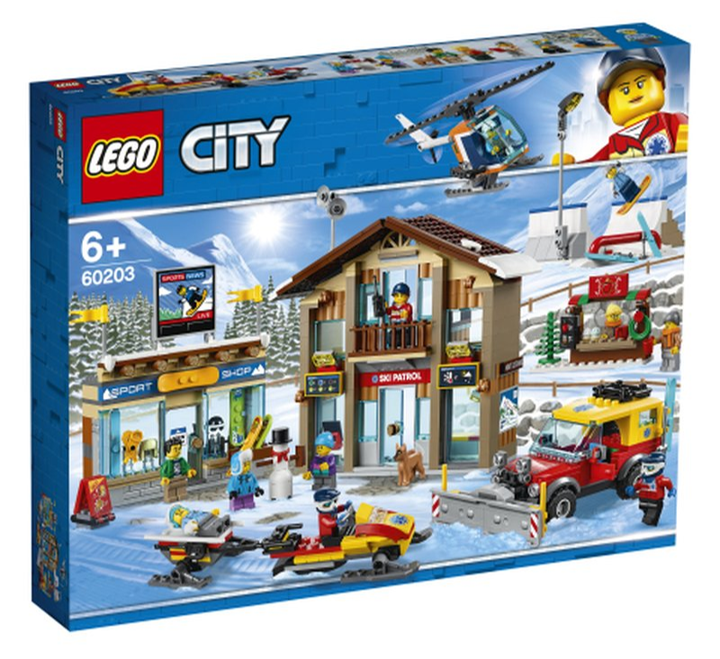 Spin the rotors of the helicopter to glide over the snow park and pretend to film the snowboarders.
Place the injured skier on the snowmobile stretcher and bring him back to the rescue station.
Use the snowplow of the 4WD truck to clear the way for the snowmobile to clear the station.
This cool toy for kids is a great, stand-alone gift!
The helicopter is 7 cm high, 20 cm long and 7 cm wide.
The snowmobile with trailer is 5 cm high, 18 cm long and 3 cm wide.
The 4x4 truck with snow plow is 9 cm high, 14 cm long and 7 cm wide.
The stall is 10 cm high, 6 cm wide and 3 cm deep.
The snowpark with halfpipe is 12 cm high, 16 cm wide and 12 cm deep.
The rescue station is 20 cm high, 19 cm wide and 7 cm deep.
The ski shop with screen is 15 cm high, 12 cm wide and 7 cm deep.
The rail is 11 cm wide.
---
Are you impressed with 60203 Ski Resort? Let us know in the comments.