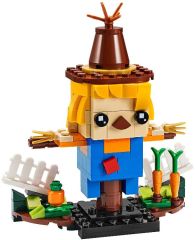 Our friends over at PromoBricks have uncovered a pictures of a hitherto unknown BrickHeadz, 40352 Scarecrow.
It carries the number 84, which was missing from the sequence of seasonal sets revealed at the end of last year.
It will most likely be released on 1st September, along with 40351 Ghost, in good time for Halloween and Thanksgiving.
If rumours are to be believed, the popular blocky caricatures will be making a comeback next year, after a relatively fallow period this year.
You'll find a picture of the box after the break.