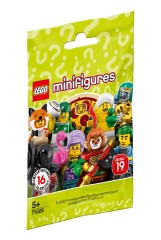 Collectable minifigures series 19 are starting to show up in shops in Europe, including in Tesco in the UK.
The box distribution was reported a week or so ago on some random YouTube channel so I thought I'd wait until it was corroborated by someone more trustworthy before reporting on it.
German site StoneWars has done just that this morning and I'm pleased to read that there are three complete sets in the box.
The distribution is as follows:
5 in the box:
Video Game Champ
Mummy Queen
Galactic Bounty Hunter
4 in the box:
Fright Knight
Programmer
Jungle Explorer
Pizza Costume Guy
Rugby Player
Bear Costume Guy
3 in the box:
Shower Guy
Monkey King
Firefighter
Dog Sitter
Gardener
Fox Costume Girl
Mountain Biker
Our box is in the post so we'll be publishing our review as soon as they arrive.