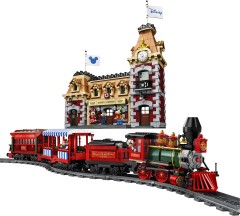 71044 Disney Train and Station is now available at LEGO.com to VIPs. It's a little pricey but a great set, as our review will attest.
The 2900 piece set contains five unique minifigures, including Goofy, and Powered Up! components allowing the train to be controlled via Bluetooth on your phone.
Please place your order via our links:
USA | Canada | UK | Germany | France | Netherlands
Thank you!