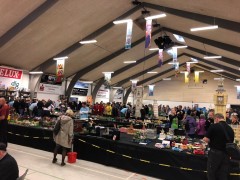 Skaerbaek Fan Weekend is the biggest fan event in Europe, when close to 1000 AFOLs from all around the world descend on a small town on the west coast of Denmark on the last weekend of September.
I'm excited to be attending for the fourth time this year. It's a great time filled with trips to the LEGO House, seeing some great MOCs, and attending seminars and workshops. Of course the best part is seeing old LEGO friends and making new ones!
Prior to attending Skaerbaek for the first time, I was curious to see how similar LEGO events were on the other side of the Atlantic to U.S. LEGO events. After having attended three Skaerbaek Fan Weekends, and several shows in the U.S., I'll discuss some of my observations after the jump.
---
What's the same
Not surprisingly, there are many, many similarities between LEGO events in the U.S. and Skaerbaek Fan Weekend (SFW).
There are terrific MOCs. This is one of the motivating reasons for people to attend LEGO events, and it's certainly the reason why the public attends. There are talented builders everywhere. It's amazing to see the creativity in our community, not to mention to see just how far the brick medium can go.
GBC displays are very popular. Seeing the GBC at work is mesmerizing, and it never fails to be one of the areas in the display hall that draws the largest crowds, particularly during public display hours.
View image at flickr
The GBC display at Brickworld Chicago
There are really two events: one is intended for the general public to view the MOCs, the other is a full conference for registered attendees that includes the seminars, socializing, ability to display MOCs, and more.
With registration, there's a small package that includes the brick badge and/or minifig custom printed for the event, and generally a small LEGO set - sometimes a polybag, sometimes a recent GWP.
There are multiple seminars and workshops for registered attendees. The LEGO community is generous with its knowledge, so at any one event you will find sessions than range from subjects such as how to design/transport a large MOC to LEGO photography to building techniques. It's not unusual to have LEGO designers or staff give presentations, too.
For attendees of the conference, there are social lounges available that allow you to meet other AFOLs away from the display hall. It's a lot less noisy and a great way to make new friends.
Don't plan on the "early to bed, early to rise" motto. LEGO events seen to coincide with late nights, with LEGO conversations going on late into the night - see the aforementioned lounges for a good place to find one of those discussions.
Since it's a LEGO event, you can buy LEGO! There are vendors present selling everything from bulk bricks to custom minifigs.
View image at flickr
Discounted LEGO on sale at Skaerbaek
Most importantly, you meet all kinds of friendly people! I've found LEGO fans on either side of the ocean to be a friendly group. While the MOCs are terrific to see at the events, the best memories at each event are the people I meet. I don't think I've ever attended an event without coming home with new friends, bonding over things from a shared hair dryer to the best recipe for chili (and an interest in LEGO too).

One of my favourite memories from a couple of years ago at Skaerbaek happened at the LEGO House Day for AFOLs. I was admiring the builds next to a fellow attendee (who I'd not met before), and we both happened to bump into Kjeld Kirk Kristiansen (who neither of us had met before). Kjeld was gracious as always, took pictures with each of us, gave us his minifig. Afterward, my new friend and I looked at each other, locked arms, and having no other way to express out excitement, jumped up and down, saying "We met Kjeld! We met Kjeld!" like a couple a little kids. And we've kept in touch ever since.
View image at flickr
One of two exhibition halls in Skaerbaek
---
What's different
There are also a few differences that I've noticed between continents. Granted, my sample size for Skaerbaek is a lot smaller than North America, so feel free to correct any misperceptions in the comments:
There are a lot of different MOCs, but in the U.S. you will see quite a few military themed MOCs. Sometimes it's replicas of firearms, to very elaborate recreations of battle scenes. There are enough military themed MOCs that they're often given their own space in the display hall, and have their own award. You don't see those kinds of MOCs at Skaerbaek; it's in the MOC guidelines that replicas of weapons are not allowed.
There are awards for MOCs in U.S. shows - quite a few, and generally grouped by category. The categories often vary by show, but generally they include: Castle, Train, GBC, Military (as mentioned above), Bionicle, Art, etc. The prizes are brick built trophies - and sometimes there is an award for the best trophy. At Skaerbaek, there are no awards - sometimes the MOCs are grouped by category, sometimes not.
View image at flickr
Brick built trophies for MOCs to be awarded at Bricks by the Bay
At U.S. events, it's a general expectation that builders stay with their MOCs at least some of the time during public hours to interact with the public and to answer questions. For me, that's been one of the best ways for me to meet other AFOLs, as I talk to them directly about their builds, and it usually segues to another conversation later in the event (or afterward). The display area is typically set up to allow this - there are spaces behind the tables where the public can't access where the builders can stay. Perhaps due to space constraints, this hasn't been the case in Skaerbaek, and it's been relatively rare that builders stay with their builds. There are some wonderful MOCs that I've seen that I've never been able to express my admiration to the builder.
View image at flickr
A terrific MOC at Skaerbaek Fan Weekend. I never got chance to meet the builder to tell them how much I loved it
Upon looking into the registration package at a U.S. show, I've always discovered a grab bag of random bricks in addition to a polybag or small set. I've not had that (at least in my registration package) when attending Skaerbaek.
Parts drafts - these are a key activity at a US event. At some of the larger events, there are sometimes multiple drafts going on at the same time, and at a minimum there are several a day. I've yet to see a parts draft at SFW.
Similarly, games are also a big activity at U.S.events. While SFW has some games, such as speed MOCing - I've not seen the line up of games that I see at U.S. events. Build-in-a-Bag, Speed building, Dirty Brickster, Left Hand Right Hand, and my personal favourite, The Yelling Game - I'd love to see these at Skaerbaek! They're also great ways to make new friends.
Speaking of socializing, the U.S. seems to structure their socializing a bit more - they have social mixers. I haven't seen one yet during SFW, though word has it there will be a mixer for members of GayFOLs this year.
Because there are so many countries within relatively short driving distances, there's a very international flavour at SFW. Over 30 countries are represented and there are AFOLs there from as far away as Australia, Asia and South America. The first year I attended, I was surprised to learn I was the only American there. That's certainly changed every year since! While there is some international representation at U.S. events, you don't get the same diversity of languages and countries as you do at Skaerbaek, which is one of the reasons it's such a great event.
I love the memories that I have from each LEGO event I've attended, no matter where it is. It's the main reason I'm so looking forward to returning to Skaerbaek next weekend.
View image at flickr
Chalet accommodation on site at Skaerbaek.
Those of you who have attended events on either side of the Atlantic, what do you think? Did I miss anything? Let us know in the comments.
If you're attending the event too, be sure to come and find me to say hello!