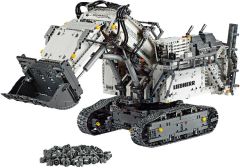 IWOOT continues to be a great place to pick up Technic bargains, particularly if you're in North America or elsewhere outside Europe, where Technic tends to be more expensive compared to the UK.
42100 Liebherr R 9800 is currently available for just US$379.99 (RRP $449.99) and 42110 Land Rover Defender for $179.99, a saving of $20. Worldwide shipping is free, or about $10 for expedited.
Check out IWOOT's entire range of Technic and, while you're there, pick up a few Brickset-branded goodies, too!