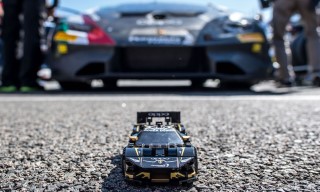 Today, a second 2020 Speed Champions set, 76899 Lamborghini Huracán Super Trofeo EVO & Urus ST-X, was revealed at an event in Spain, although it seems to have gone under the radar somewhat.
I believe that Lamborghini has issued a press release but I can't find the original anywhere so have quoted an extract from Sportscar 365 after the break.
The set will include two vehicles, which are both eight-wide: A black Huracán Super Trofeo EVO supercar and a racing variant of the company's SUV, the Urus ST-X, which looks to be lime green although there are no decent photos of it around yet.
The twin-pack will be released on January 1st.
"We're extremely excited to welcome Lamborghini into the LEGO Speed Champions family, and can't wait to see what this partnership brings," said Chris Stamp, LEGO Speed Champions design manager specialist.
"As one of the most famous automotive brands in the world, Lamborghini has always been on our dream list. It's just been a question of when.
"Fortunately, 2020 marks the start of a new chapter for LEGO Speed Champions with the evolution to the more accurate '8 Studs Wide' design and we felt that we could now do the popular brand justice.
"Especially the wide body of the Huracan Super Trefeo Evo, and with the awesome Urus ST-X we also introduce our first super SUV into the theme, which fans will hopefully be just as thrilled with as we are."
View image at flickr
View image at flickr
News via, and photos from, StoneWars.