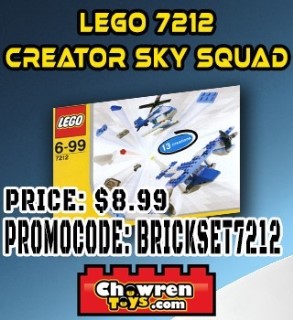 Jack at Chowren writes: "We been wanting to run another Throw Back Thursday Promo so we went out and found 40 of Designer 7212 Sky Squad from 2003!
"Unfortunately, the sets have some wrinkles and creases, therefore we are offering them to readers of Brickset for $8.99, 10% off of the original MSRP.
All you need to do is enter promo code: BRICKSET7212 at the checkout to get the discounted price. There are total of 40 units available while supplies last. This promotion will only last until Nov.7 2019 11:59pm (US West Coast time)"