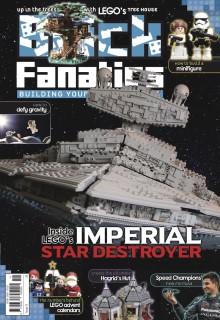 Here's the press release:
Brick Fanatics Magazine Issue 11 in UK stores
Issue 11 of Brick Fanatics Magazine leads with a designer walkthrough of LEGO Star Wars UCS set 75252 Imperial Star Destroyer and is available to buy in UK stores from today
The 11th edition of the print publication all about LEGO is available to purchase in WHSmith stores across the UK from today. Brick Fanatics Magazine once more collaborate with Brickset in this issue for a very special cover feature exploring 75252 Imperial Star Destroyer in more detail, including a walkthrough from the lead designer behind this giant set.
Issue 11 of Brick Fanatics Magazine also sees us take 21318 Tree House up into a rather unique real life tree house, before we take a look at the LEGO Group's history with advent calendars and show how to combine two copies of Hagrid's Hut for one complete half-giant home.
There's a great deal once more packed into the latest issue of the magazine, and from today you can pick it up in person at WHSmith. Can't find your nearest stockist? Drop us a note at [email protected] and we'll point you in the right direction.
Alternatively, order single copies of Issue 11 (with additional postage and packaging charge) today at www.brickfanatics.com/magazine, or benefit from free postage, free issues, delivery each month fastest and first and our unique subscriber guarantee by subscribing for 12 issues or 24 issues.