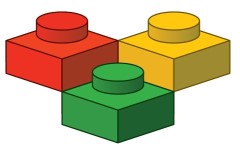 What sets were released in January this year? Which Technic sets were released last summer? It's hard to remember, isn't it, and until now it's been hard to find out because while we record the date that items are first sold there's been no way to query that data easily.
So, I've added a new feature to simplify things. You can now view two lists: one that provides a summary of which sets were released when, in date order, and another that provides the same information but in theme order.
I'll explain where the data comes from after the break.
---
Brickset has been a LEGO affiliate, on the Rakuten (formerly Linkshare) affiliate network, since 24th October 2007. Being part of that gives us access to a product feed that contains information about everything that's for sale at LEGO.com. We download it overnight, every night.
When sets appear in it for the first time, we record the date in the database, and when they disappear we record the date they were last seen.
These new lists surface 12 years of this information in an easily-digestable format.
There are a few caveats about the data:
Only sets that were/are sold at LEGO.com will appear in the lists
Sets that are available to VIPs early do not appear in the product feed until the general release date
Sets that are immediately on back order on their official release date do not appear in the product feed until they are in stock
The data in the product feed is often a few days behind the data on LEGO.com
If you view the lists from Europe or Australia/NZ you'll see European release dates, otherwise you'll see US release dates.
I hope you find them useful.
Once this news article has disappeared you'll find links to them on the green Browse box above
Check back in a few days for an article in which I will be finding out which sets have been on sale for the longest and for the shortest length of time at LEGO.com...