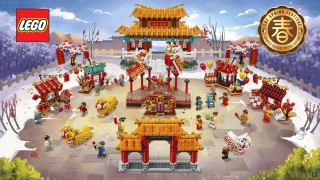 LEGO has just announced two sets that are being released to celebrate the next Chinese New Year:
Celebrate the Chinese New Year with LEGO Lion Dance and Traditional Temple Fair
Today, the LEGO Group revealed its 2020 Chinese New Year sets - 80104 Lion Dance and 80105 Chinese New Year Temple Fair. The launch follows on from this year's popular sets: 80101 Chinese New Year's Eve Dinner, 80102 Dragon Dance and 80103 Dragon Boat Race, the first LEGO products created to mark the festivities. [This is not true -- Huw]
The Lion Dance set vividly reproduces a well-loved scene of the Spring Festival and is sure to evoke fond memories of the traditional festival. The set features 5 beautifully decorated small lion figurines and a percussionists' stage with an awesome drumming function.
An accompanying temple gate is decorated with LEGO tiles featuring traditional patterns. The set also comes complete with 8 minifigures including lion dancers and a man in rat costume to mark the Year of the Rat. Additional accessory elements such as the red 'best wishes' scroll, red orb, cabbage, calligraphy brush and a rocket firework are included to inspire unlimited role-play.
---
The Chinese New Year Temple Fair set captures a beloved event often seen in towns and cities throughout China around the lunar new year. The set includes stalls displaying a vast, colourful array of LEGO versions of authentic items you would find at a Temple Fair. Everything from barbecue dishes to candy, toys, vases and dough figurines are lovingly re-created ion LEGO form. The set also includes 14 minifigures. Eagle-eyed LEGO fans will notice that the family from last year's Chinese New Year's Eve Dinner set make an appearance, continuing the story of their Spring Festival celebrations.
Temple Fair
80105
LEGO product designer Markus Rollbühler, designed the sets to be as authentic as possible: "We were incredibly thorough with our research when designing the sets. For the Chinese New Year Temple Fair, we looked closely at the types of things vendors sell in the market stalls and all of the various goods on offer."
It was also important that children could act out scenes to make the sets come alive: "Both sets include amazing minifigures and details to encourage role play. The Lion Dance set comes with many interesting play features. For example, you can fully pose the lions and you can also open and close their mouths to help recreate the spectacular dances we all know and love." Markus explains.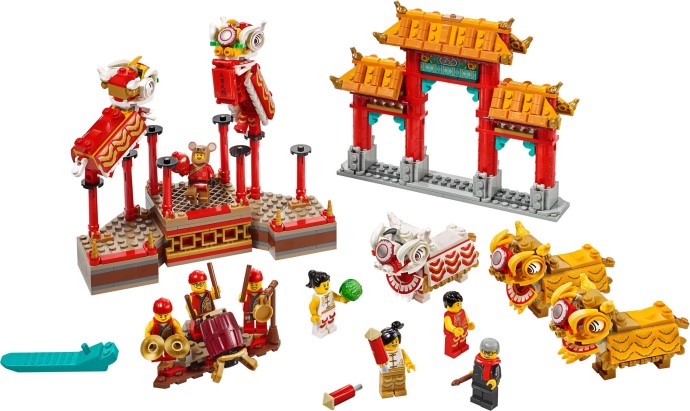 Lion Dance
80104
The two new LEGO Chinese Traditional Festival models will be ready to discover in China and Asia Pacific markets from December 26, 2019 and the rest of the world from January 10, 2020.
---
So, LEGO is being true to its word of no more regional exclusives.
We've been given one price, £64.99 / $79.99, so I'm not sure if that is the price of one or both of them. If both, then 80105 Temple Fair, with 13 minifigs and a baby, will be bargain!
Nice one, Markus!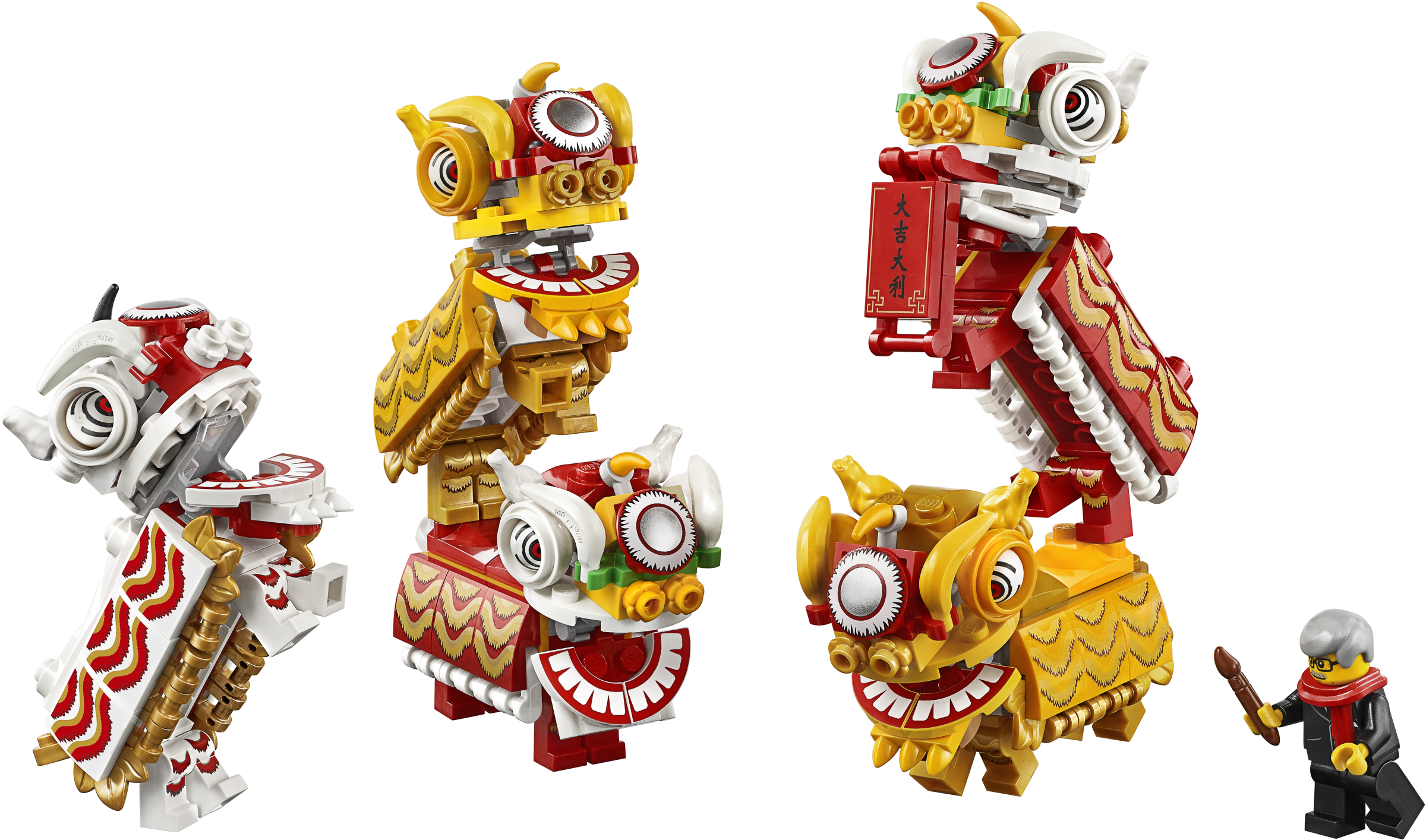 Here's a video that shows just how awesome they are: