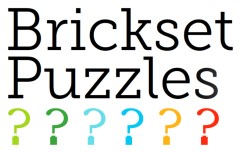 Our recent LEGO riddles received an excellent response and we have therefore prepared some further puzzles which will become available every Wednesday, along with the answers to questions from the previous week.
Sometimes these articles will involve awarding prizes, although the questions are purely for fun this week. You can view the puzzles and submit your solutions after the break...
Questions
Riddle 1:
Gathering here to celebrate, one decade range of real estate.
Riddle 2:
Mechs representing light and shade, fighting over an Aeroblade.
Riddle 3:
Cyborg minion's mountain escape, jetpack chase with chopper-like shape.
Riddle 4:
Three sacred stones are homeward bound, on swerving tracks beneath the ground.
Riddle 5:
One thousand years in blue and white, outstanding speed exceeds the kite.
Missing Set:

---
Please enter your answers in the form of set numbers here:
---
Further questions and the answers to these questions will be published next week.
Please refrain from posting the answers in the comments.
Thanks to Paperballpark and KungFuKenny for their assistance with these questions.