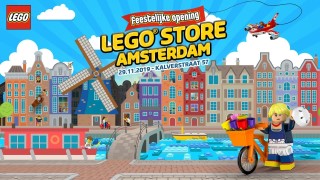 It's all happening with brand store openings this month! A week after the Birmingham store opens its doors, the new flagship store in Kalverstraat, Amsterdam will open, on 29th November.
There are some very cool offers available that make it worthwhile going along if you're in the area:
On the 29th, VIPs will receive a limited edition LEGO Windmill with purchases over €75 and everyone will receive an orange 'I ♥LEGO Store Amsterdam' tile.
Then, on the 3rd to the 5th of December, 40145 LEGO Brand Retail Store set will be free with purchases over €125 and a I ♥ AMS BrickHeadz will be free with purchases over €75.
We don't know if the windmill is a boxed set or loose parts in a bag but I'm sure an attendee will tell us on the day.
We also understand that a store is opening in Stockholm soon, too. We'll post more details when we have them.
Thanks to Colin and Koentinius for then news.