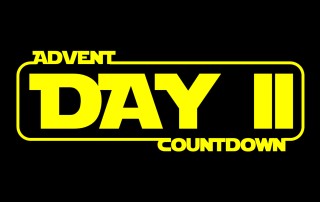 Day one yielded an intimidating Resurgent-class Star Destroyer and I wonder whether the Sequel Trilogy focus will continue today. I hope so given the breadth of potential source material.
Read on and find out what emerges next...
Kylo Ren's elegant Upsilon-class Command Shuttle is among my favourite vehicles from the Sequel Trilogy and this design looks nice. The folding wings have been integrated neatly and I love the trans-red 1x1 plate which forms the cockpit viewport. Ideally, the black tile covering the fuselage would have included some texture but this smooth component provides important rigidity to the shuttle.
View image at flickr
The most notable detail only becomes visible from behind where the engine nacelles are represented by a black roller skate element. This technique is quite effective and the dark bluish grey 1x2 rounded plate underneath looks reasonable too. However, the dark bluish grey hinges on the outer surfaces of the wings would have appeared more attractive in black so I recommend replacing them.
View image at flickr
Overall - 4.0 - Despite some odd colour choices, this is an excellent model of the Upsilon-class Shuttle and the engine design is particularly ingenious.