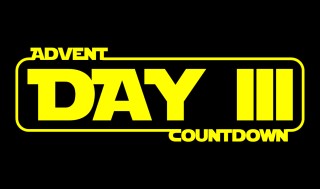 Vehicles belonging to the brutal First Order have launched the 2019 Star Wars Advent Calendar so another such item seems probable today. I think our first minifigure would be welcome.
Read on and find out after the break...
First Order Stormtroopers have appeared in many previous sets but further additions to the army are always appreciated. This minifigure wears an attractive helmet with the narrow grille that appeared in 75166 First Order Transport Speeder Battle Pack and the subsequent Star Wars: The Last Jedi range. The design matches the movies and I like the light bluish grey filtration nozzle on the chin.
Moreover, the chest armour includes marvellous detail, closely resembling the onscreen characters. I love the printing on the legs and removing the helmet reveals another Clone Trooper head, which has now been available for more than seven years! The minifigure is equipped with a standard blaster rifle, as usual.
Overall - 4.0 - Minifigures for army building are welcome and this Stormtrooper looks superb, although something less common might have been preferable.