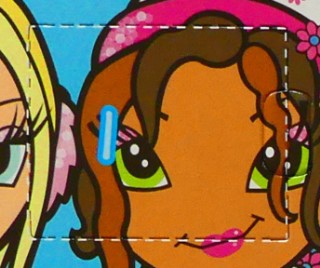 Do we have a treat for Clikits fans this year! A friend of mine has acquired 7575 Clikits Advent Calendar from 2004, which was before Advent calendars became boring and predictable, and together we'll be revealing its contents in time-honoured day-by-day fashion.
Clikits sets first appeared in 2003 and offered a mixture of jewellery and other personal items; stationery and desk storage; and interior décor such as picture frames and mobiles, so with luck we should see good selection of these in the calendar.
One thing we can be certain of: there will be no weapons rack!
Anyway, let's open door number one and see what lies behind...
---
Actually, before we do that, let's take a look at the box, which has a lovely illustration of the theme's protagonists, the imaginatively named Heart, Daisy and Star.
View image at flickr
Behind door one we find a very nice printed polythene bag showing what's inside. It looks great, but I can't help feeling the printing is a bit of a waste given that 99.9% of them ended up in the bin. I suspect my friend is keeping hers, of course, having opened it carefully with scissors!
View image at flickr
Inside is a hair slide, decorated with a classic pink heart which has a relatively rare printed icon. It makes me happy – I feel prettier already!
These parts can apparently also be used as paper clips, but they don't work too well unless you have just the right amount of paper to clip.
View image at flickr
So, not a bad start to the calendar at all!