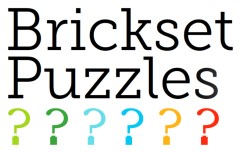 Following several days of many set announcements and seismic news, we have created some brand new Brickset Puzzles!
You can view our latest teasers, along with the answers to those from last week, after the break...
Answers for Brickset Puzzles #1
Gathering here to celebrate, one decade range of real estate.
A: 10255 Assembly Square
Mechs representing light and shade, fighting over an Aeroblade.
A: 70737 Titan Mech Battle
Cyborg minion's mountain escape, jetpack chase with chopper-like shape.
A: 8631 Jetpack Pursuit
Three sacred stones are homeward bound, on swerving tracks beneath the ground.
A: 7199 The Temple of Doom
One thousand years in blue and white, outstanding speed exceeds the kite.
A: 75212 Kessel Run Millennium Falcon
Find the missing set:

A: 10221 Super Star Destroyer
The solution here could be found by focusing upon miniature vehicles which accompany three of these sets. 75252 Imperial Star Destroyer contains a miniature Tantive IV and 10143 Death Star II includes a miniature Super Star Destroyer, hence the missing set is 10221 Super Star Destroyer which contains a miniature Imperial-class Star Destroyer.
---
Questions
Riddle 1:
Robotic shark the waves traverse, deployed by LEGO in reverse.
Riddle 2:
Meeting place before adventure, resident there signs indenture.
Riddle 3:
Anything but the dinosaur, instead afford this famed raptor.
Riddle 4:
Two years following dark fortress, an ancient monarch in distress.
Riddle 5:
Maintaining cars with German tones, with engines stripped back to their bones.
---
December seems likely to be extremely busy so we may not have an opportunity to publish further puzzles every week. However, we certainly hope to publish some during next month so keep an eye on the homepage for them.
Good luck!