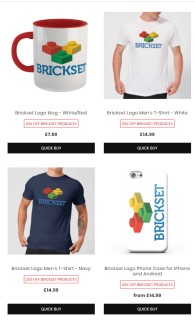 This weekend you can grab yourself some Brickset merchandise -- T Shirts, mugs, hoodies, mouse mats and more -- for 25% off at IWOOT
Plus, you'll also find some great savings on a number of sets, including 75253 Droid Commander for £124.99 instead of £180.
Remember that IWOOT ship worldwide at low prices so are a great option if you have difficulty find LEGO at a decent price in your country.
Check it all out at IWOOT but hurry, offers end on Monday!
Savings at IWOOT this weekend
| | | |
| --- | --- | --- |
| LEGO Star Wars: Droid Commander (75253) | £124.99 | $149.99 |
| LEGO Technic: Bugatti Chiron Supercar (42083) | £ 209.99 | $ 279.99 |
| LEGO Technic: Porsche 911 RSR (42096) | £ 94.99 | $ 124.99 |
| LEGO Technic: Racing Yacht (42074) | £ 18.99 | $ 27.99 |
| LEGO Mindstorms: EV3 Robot Building Kit (31313) | £ 209.99 | $ 259.99 |
| LEGO Technic: Remote-Controlled Stunt Racer (42095) | £ 45.99 | $ 64.99 |
| LEGO Boost: Creative Toolbox (17101) | £ 103.99 | $ 129.99 |
| LEGO Technic: Corvette Super Car (42093) | £ 26.79 | $ 38.99 |
| LEGO Technic: Car Transporter (42098) | £ 92.99 | $ 129.99 |
| LEGO Technic: 4x4 Crawler (42099) | £ 144.99 | $ 179.99 |
| LEGO Technic with Power Functions: Rough Terrain Crane (42082) | £ 169.99 | $ 219.99 |
| LEGO Star Wars: Millennium Falcon (75257) | £ 119.99 | $ 144.99 |
| LEGO Super Heroes: Avengers Ultimate Quinjet (76126) | £ 64.99 | $ 74.99 |
| LEGO Disney Princess: Castle Arendelle (41167) | £ 63.99 | $ 74.99 |
| LEGO Ninjago: Castle of the Forsaken Emperor (70678) | £ 72.99 | $ 89.99 |
| LEGO Star Wars: Kylo Ren's Shuttle (75256) | £ 86.99 | $ 104.99 |
| LEGO Architecture: Empire State Building (21046) | £ 72.99 | $ 94.99 |