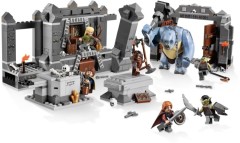 We all know that Toys R Us tend to mark-up their LEGO a bit higher than MSRP. We also know that Walmart Canada tend to sell their LEGO just a bit below MSRP. This bit however, seems a little bigger and is worth noting again when shopping for Christmas.
I could not believe the discrepancy between prices when I looked up The Mines of Moria (9473) at these three locations; I was shocked.
Walmart Canada $84.88 << shop.lego.ca $99.99 << Toys R Us, Canada $109.99
As much as I don't like supporting Walmart (unfair wages, etc.), the price difference between some sets is ridiculous.
If Walmart continues this trend with other sets, I don't think any of us can afford not to shop there.
Sponsored content