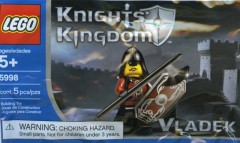 As promised here is Chowren Toys' first promo of the year -- something small to ease us into the new year! I'll let Jason explain...
"We are offering 5998 Vladek Castle Kingdoms polybag from 2005, featuring a minifig and weapons, for only $1.80, which is about 64% off our regular price. We believe this polybag was not widely available in the USA at the time of its release and is hard to find nowadays.
"Want to build an army cheaply? We are allowing you to buy up to 100! We don't have unlimited quantities, however, so as usual it's first come, first served. Remember, the more you buy the cheaper per item shipping charges, and order soon to avoid the USPS price hikes on 26th January. Please use promo code: BS5998POLY at checkout to receive the discount price."
Place your order today!
Sponsored content