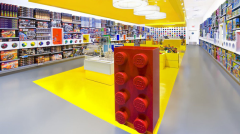 The LEGO retail store expansion shows no sign of slowing down this year. Four new stores for the USA have just been announced:
Danbury Fair, Danbury, CT
West County, Des Peres, MO
North Star Mall, San Antonio, TX
Fashion Place, Murray, UT
I'm told that the latter will be the first in Utah.
Thanks to Xarquar for the news.
Sponsored content