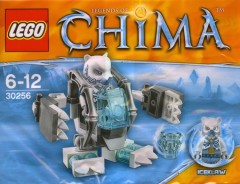 As I'm sure many of you already worked out, many of our stories yesterday were April Fools' jokes:
- The next Architecture set won't be the BT Tower.
- Nobody found a 14ct Mr Gold minifig.
- The Rabbiz Chima polybag is a fake.
However the most ridiculous story of all, the Jabba's Palace one, is true. Unbelievable, isn't it...
Many thanks to rocao for putting his Photoshop skills to good use and coming up with the fake artwork for the BT Tower and Rabbiz. I thought the latter was particularly well done; in typical Chima style, the vehicle he's sitting in looks like just like a rabbit, doesn't it, and you can easily imagine LEGO coming up with something similar if rabbits do make an appearance in Chima :-)
LEGO related jokes were thin on the ground yesterday, with many of the other big sites refraining from posting any. The only ones I noticed were:
- Eurobricks to change its name to Ameribricks
- Toys N Bricks to start charging to access the forum
- BrickUltra announces GI Joe sets
What fun. I'm looking forward to next year already...
Sponsored content