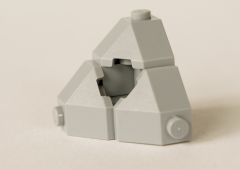 There are thousands of LEGO blogs out there but most just regurgitate what the bigger ones are publishing and hope to make quick buck while doing so.
It is refreshing, therefore, to see that caperberry (Tim) has launched a blog containing original material on a subject that's not covered elsewhere. It's called The New Elementary and its focus is on new parts and what they are good for.
In one article Tim talks about this new new roof slope, which is possibly the only new 45 degree slope to be introduced since 1958. I didn't know it existed until I read about it there, so I've subscribed to the RSS feed and look forward to being further educated and enlightened in the future.
Sponsored content