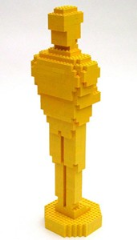 Brickset reviewer DrDaveWatford, as you may know, runs his own blog called GimmeLEGO.
Dave has just posted his annual GimmeLEGO awards article which makes for some interesting reading. Find out which theme, set and minifig he thinks were the best of the year and cast your vote in the final category, the reader's choice award.
(LEGO Oscar model by Nathan Sawaya).
Sponsored content