In The News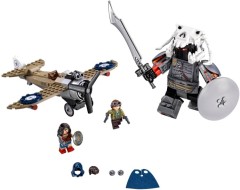 Toys R Us has slashed the price of most, if not all, of the DC Super Hero Girls, Star Wars Constraction, Wonder Woman and The Angry Birds Movie sets by 50%, and many others by 30% or more.
It's somewhat surprising to see even the June Super Hero Girls and Wonder Woman sets discounted so heavily so soon after release. Either they are not selling or they were over-priced to start with. Probably both!
Whatever, there are some bargains to be had and you'll find them all listed on our Toys R Us page.
Join
for unlimited, free one-day delivery on millions of items and much more.
View all discounts | Compare Amazon prices | Hide these alerts | @BargainwatchNA
70607 NINJAGO City Chase is one of the smaller sets based on The LEGO NINJAGO Movie but has been the subject of much anticipation due to its impressive minifigure selection and low price point. The set contains 233 pieces and five minifigures but costs just £14.99 in the UK or $19.99 in the US so seems to offer brilliant value.
Furthermore, the setting for the skirmish and the models included recall 7195 Ambush in Cairo which is one of my favourite small sets. I am hopeful that this slightly bigger set will be even better, particularly since three of the figures, Nya, Officer Toque and Ham, are not currently available anywhere else.
Minifigures
The ninja divide their time between martial arts and high school in the movie so Lloyd Garmadon is accordingly dressed in civilian clothes. However, Lloyd's role as the green ninja is intimated through his dark green hooded jacket and I like the bright green pocket lining which presents a nice contrast. The back of the torso is printed with a folded hood and the jacket continues onto the hips where a reddish brown belt is also included.
Lloyd's head includes two different smiling expressions and he sports a brand new blonde hair piece. It seems odd that his eyebrows are not blonde to match his hair, although this is not uncommon in reality. The minifigure is only otherwise available in 70620 NINJAGO City so is quite rare but a similar figure appears among the Collectable Minifigures. Lloyd carries a red can which consists of a 1x1 cylinder and a printed ring pull tile on top.
Nya also wears her everyday attire in this set and is a highlight in my opinion, especially since the minifigure is only available here at the moment. I love the textured hair piece which is made from a hard plastic and includes a silver hair band while the head features a smile on one side and an annoyed expression on the other, both of which look excellent.
However, Nya's torso and legs are perhaps the most appealing aspect of the minifigure as she wears an unusual cropped jacket over a striped shirt along with a pair of torn jeans. Both sides of the torso are highly detailed as the jacket includes some stitched patterns alongside pocket flaps and I am pleased to see such a distinctive design as this kind of jacket has rarely appeared on past minifigures. A printed mobile phone 1x2 tile completes the figure.
Officer Toque maintains order in NINJAGO City and seems to be a member of the Super Secret Police as its logo appears on his chest. He includes the same helmet and torso as Bad Cop from The LEGO Movie, although this makes perfect sense so their similarity does not bother me. Moreover, Toque wears a pair of white gloves and dark blue trousers, neither of which are seen on Bad Cop, so he does look somewhat different.
The head is certainly the highlight though. I like the stern expression and Toque's elaborate moustache looks splendid, befitting a tough police officer. It is also worth noting that the excellent helmet has only appeared in a few sets so may be new to some buyers. The minifigure is equipped with a pair of light bluish grey handcuffs for securing suspects.
Citizens appear throughout The LEGO NINJAGO Movie range and many appear frightened as Garmadon's forces attack. Ham certainly fits with that trend and includes a comically terrified expression along with some stubble. This face is quite specialised and a more neutral alternative would have been welcome but his tan coolie does not cover the back of the head so the absence of another face is perfectly understandable.
The torso and legs are simply decorated with a dark blue tunic. Nevertheless, I like the staining on the front and back which seems appropriate for someone working at a food market and his traditional attire has the potential to be very useful for other creations, as does the hat. Ham comes with a printed bank note as well as a selection of foodstuffs which are on display at his stall.
The final minifigure is a generic Shark Army Thug, the like of which is present throughout the first wave of sets. He sports a dark orange beanie hat and an eye patch, suggesting that he already seen some action before being recruited by Garmadon. The scruffy beard and grim expression look great, although it is a bit disappointing that this character is so prolific as he appears in three other sets wearing identical clothing.
I like the uniforms worn by Garmadon's troops, particularly those which include a sand blue shirt as the colour seems very suitable for an underwater army. This is covered by dark bluish grey straps and rows of pouches which look superb and the thug also wears a pair of kneepads. He comes with a large hammer, the handle of which is shaped like a fish to match other weapons wielded by the villains in the film.
The Completed Model
Officer Toque drives an auto rickshaw which consists primarily of black and white elements to demonstrate that it is a police vehicle. The rickshaw drives on three wheels and looks rather ungainly, although this is also true of the source material and I appreciate the apparent unsuitability of an auto rickshaw for police service, especially since they are notoriously slow. However, the police do use rickshaws in some Asian countries and I imagine their ability to navigate narrow streets would be useful in NINJAGO City.
There is room to place two minifigures inside and the front seat includes a pair of handlebars as well as a clip for an accessory. Presumably the rear seat is intended for a prisoner, although it seems comically vulnerable to escape! Obvious flaws like this one are part of the vehicle's charm in my view but it might have been nice to see a cage of some kind, just for the sake of some additional play value.
The driver is protected by a trans-clear windscreen and side view mirrors are fitted just in front of the cab. I like the red and blue lights on the roof which are also present on the front along with a single headlight. A few stickers complete the front of the model, adding some extra detail and further reinforcing its affiliation with the police in NINJAGO.
View image at flickr
The rear is decorated with another sticker and also includes two red brake lights. Minifigures can grip the light bluish grey bars which line either side of the auto rickshaw so a total of six characters could ride if necessary, albeit in a rather unsafe manner! I expected little of this model but it has proven to be a very pleasant surprise, not least because it includes a remarkable amount of detail and depicts a type of vehicle which we rarely see in LEGO.
View image at flickr
Ham's market stall appears quite simple but involves some interesting building techniques. I particularly like the black cylinders which strengthen the structure and the red awning, made from three flags, looks brilliant. Racks of fish and cherries are attached to the sides while the barrel of green apples is separate so can be placed anywhere. A sign reading 'SHOP' is mounted above the awning and two more hang over the food, seemingly denoting prices.
View image at flickr
The back of the stall is far less visually appealing but does include space for a minifigure to stand behind the counter. Moreover, the shape of the roof resembles a torii, with angled corners and a narrow profile. I think it looks great and the designer has been able to squeeze plenty of detail into a small model which seems to be a consistent feature of the entire range.
View image at flickr
The set also includes a pair of lamp posts which are connected by a string of lanterns. This looks marvellous as a piece of scenery but also offers some play value as the ninja can climb up and swing from the posts. I like the stickered signs which read 'NEW TOWN', 'ARLO', 'HOTEL' and 'UPTOWN', particularly since the hotel sign includes a star rating! It is a bit difficult to hang the string naturally between the posts and they are somewhat fragile but I am not sure how that could have been improved without spoiling their appearance.
View image at flickr
Overall
The LEGO NINJAGO Movie seems to feature excellent sets at every price point. Larger models such as 70618 Destiny's Bounty look tremendous but 70607 NINJAGO City Chase represents exceptional value and offers a huge amount of playability, due in particular to the volume and variety of minifigures included, as well as their individual quality.
View image at flickr
In addition, the scenery is fairly detailed and would fit with the much larger 70620 NINJAGO City if you wish to expand the larger set. My favourite of the models is probably the police rickshaw simply because it is unusual, although all three are brilliant. I would undoubtedly recommend this set, whether or not you have a prior interest in NINJAGO.
I hope you have found this review informative. Let us know by liking this article and share your thoughts on the set in the comments below.
These are the most read articles that we've posted over the last couple of weeks: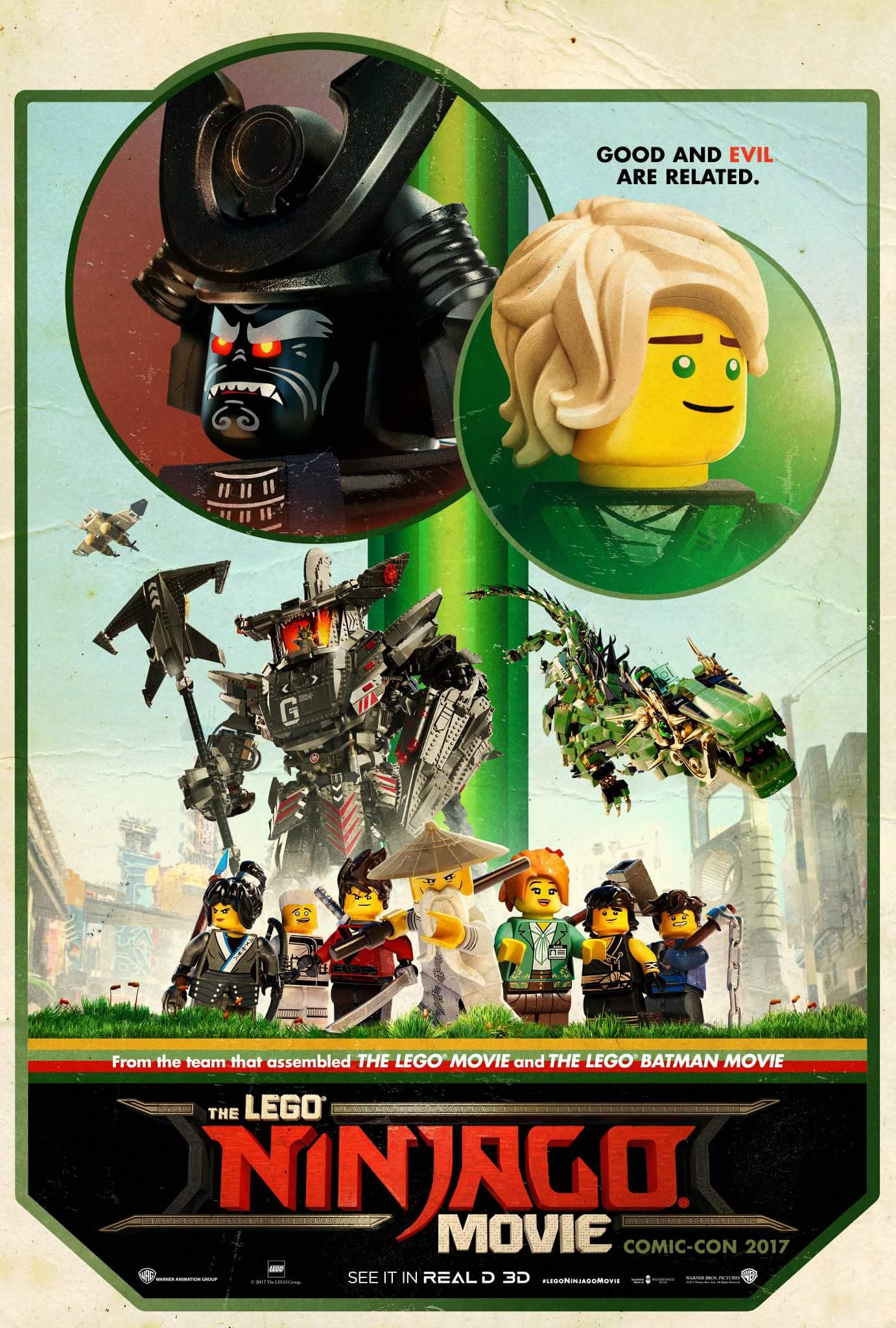 It's been nearly half a year since the first one, but finally we have a new, second LEGO NINJAGO Movie trailer fresh out of last night's SDCC panel!
As well, a new poster released for Comic-Con, which was given out for signing by the cast, has been revealed by MTV. The ninja team, Wu and Misako stand front and center, as father and son Garmadon and Lloyd do mech battle in the background.
You can watch the new trailer after the break. Be wary of potential spoilers...
What do you think? Are you even more excited for September 22nd than you were before? Less? The same? Let us know in the comments below.
The battle for NINJAGO City calls to action young Master Builder Lloyd, aka the Green Ninja, along with his friends, also secret ninja warriors. Led by Master Wu, as wise-cracking as he is wise, they must defeat the evil warlord Garmadon, who also happens to be Lloyd's dad. Pitting father against son, the epic showdown tests these fierce but undisciplined modern-day ninjas as they learn to check their egos and pull together to unleash the inner power of Spinjitzu.
These reviews have been contributed by Brickset users recently:
View more recent user reviews »
The first part of our 71019 The LEGO NINJAGO Movie Collectable Minifigures review concerned the heroes but today we turn our attention to the villains as well as the citizens of NINJAGO City. These include some of the most anticipated characters along with many new parts so I hope that the range will continue to impress.
You can read the first section of our review here or continue reading below for part two...
Minifigures
The evil Garmadon emerged as an opponent of the ninja in the very first wave of NINJAGO sets before being redeemed later in the series. I am delighted to see him return in the movie and his new design is very reminiscent of the original character, albeit with far more detail and the second pair of arms which was introduced in series two so the villain could wield all four golden weapons at once.
Black dominates the minifigure but I think the dark blue belt and grey armour are sufficient to break up the otherwise monochromatic colour scheme, particularly when viewed from the front. These printed designs look brilliant and I like the angry grimace on Garmadon's face as well as his new hat, known as a coolie. This includes some textured detail and is only available in black here, although it appears in several other sets in different colours.
Garmadon carries a black staff with a decorative component on top. This pearl dark grey element resembles a hammerhead shark in shape and is a scaled down version of the weapon wielded by Garmadon's mech in a few promotional images. The staff is currently exclusive to the Collectable Minifigures, as is this version of Garmadon himself.
Shark Army General #1 was mentioned in a recent teaser for The LEGO NINJAGO Movie at San Diego Comic-Con but we have yet to see her in action. She wears an elaborate cape which consists of two flexible plastic elements and her hair piece is new in this colour, having first appeared in dark brown on the Zombie Businessman. I like this short style as female minifigures are more often seen with longer hair so a bit of a variety is very welcome. The general looks nervous which is no surprise given Garmadon's established tendency to dispose of his minions once their usefulness has ended.
However, Shark Army General #1 looks as though she has seen plenty of military action, sporting several medals and a blue sash which identifies her as the the leader of the army. The blue jacket looks great but I think the printing on the legs is even better, featuring rows of shiny silver and blue scales which match the colour of her belt and sash.
The general comes with a pink milkshake rather than a weapon, thereby indicating that she directs her troops from the rear instead of leading from the front. I like the printed design around the circumference of the cup and the trans-clear top looks great too so I will definitely be looking to acquire a few more of these. Shark Army General #1 did not really capture my attention when images were released but this is now among the best of all in my opinion.
The Shark Army Octopus does not appear in any sets at the moment and is one of the wackiest members of Garmadon's aquatic army so this minifigure seems certain to be popular! The helmet is made from a rubber material and cast in dark orange. It looks brilliant, leaving a space for the eyes to peak through a gap in the mask and showing a scar on the head underneath.
The soldiers wear sand blue and light bluish grey uniforms but there is an impressive variety of designs. This example includes a black belt and kneepads as well as a pearl dark grey armour component which fits around the neck. A large tank is found on the back while the front displays a battery symbol, showing either how much oxygen is left in the tank or how much power remains in the suit.
The Octopus Warrior is armed with a light bluish grey stud shooter which launches trans-orange 1x1 round plates. I suspect these are intended to represent blobs of ink and that they are orange to match the colour of the headgear, although real octopus ink is black. He also comes with a pearl silver fish, perhaps used as a baton or simply as a snack!
The Shark Army Octopus' helmet seems rather unsuitable for battle based on its sheer size but I imagine the Shark Army Angler must be even more frustrated by the illicium dangling in front of her face! Nevertheless, this is another brilliant figure, wearing a bizarre sand green helmet which is designed to resemble an anglerfish. I like the fleshy lure which protrudes from the forehead and the teeth surrounding the minifigure's eyes look superb.
The torso is primarily grey and sand blue but features some muscle definition along with a tactical vest. The legs are similarly detailed but there is no printing on the reverse which is somewhat disappointing. Fortunately, the pearl dark grey tank covers most of the back and the moulded detail on the anglerfish helmet continues to impress. In fact, you could probably use the helmet to represent an actual anglerfish as its shape is reasonably realistic.
The Shark Army Angler is armed with an enormous mace. Its handle is shaped like a fish and the spiked ball is mounted on a pearl dark grey 3L bar. These two elements have only appeared once before, with the Frightening Knight from series fifteen of the Collectable Minifigures, so it is pleasing to see them again.
The Shark Army Great White wears a dark blue officer's uniform which resembles that of Shark Army General #1. His sash is dark red rather than blue and the many golden medals and chains which cover the torso appear melted, presumably in connection with the burned areas on the legs, arms and helmet..
The black shark helmet looks very intimidating, with rows of teeth surrounding an angry facial expression. I love the critically low battery symbol and am eager to discover how the Shark Army Great White came to look so bedraggled. It is worth noting that the helmet is made from a hard plastic, unlike those of the octopus and anglerfish warriors, while the black tanks are a separate component and have not appeared in this colour since 2012.
The Great White wields a fish flamethrower, perhaps suggesting that the damage to his uniform is accidentally self-inflicted. The theme of fish-shaped weapons is a lot of fun, not least because it has yielded a few new colours for the fish, including this black component which is exclusive to the Collectable Minifigures range at the moment.
Flashback Garmadon depicts Lloyd's father before he became a megalomaniacal super villain, although his fashion sense is no less flamboyant. He wears a decidedly 1970s shirt with a wide tie and an enormous collar along with a pair of reddish brown trousers. They look splendid and I like the sunglasses which are printed beside a smile on the head.
Garmadon's hair is blonde to match that of his son but he still looks rather scary, with grey wrinkles and pointed teeth. The ridges on the back of the torso are rather unsightly as they would be more suited to an armoured character but otherwise I think this figure looks pretty impressive on the whole. It will be interesting to see how this seemingly friendly father became a villain who seeks to destroy cities and rule the entirety of NINJAGO.
Flashback Garmadon comes with a black camera and a 2x2 printed tile showing a Polaroid photograph of a volcano with the word 'HOME' written underneath in NINJAGO lettering. I love the apparently suburban environment in which the volcano is set, with a white picket fence in front and idyllic rolling hills in the distance!
The last of the three Garmadon minifigures is Volcano Garmadon. He wears a brilliant set of matching pyjamas which appear very briefly in the trailer when Lloyd receives an accidental video call from his father. I love the medium blue colour scheme and the little volcano motifs look brilliant alongside tiny flames and clouds. This printing is present on both torso sections as well as the legs and all four arms but the back is totally plain which is disappointing.
However, Garmadon's enormous helmet looks marvellous and includes plenty of moulded detail. The shaping is very faithful to a traditional samurai helmet and the horns are particularly impressive, increasing the villain's height even further! I also enjoy the idea that Garmadon wears his helmet to bed and his smiling facial expression is absolutely perfect for such a fun minifigure.
The minifigure holds a new pearl silver spoon and the bowl element which has been introduced for The LEGO NINJAGO Movie. The same accessories appear with Lloyd Garmadon but the bowl is sand green on this occasion and is decorated with a white wave design which runs all the way around it.
Gong and Guitar Rocker is the first of the four civilians which complete the series. He features a black hair piece with a red band and his sleeveless shirt is red too. There is no printing on the back but it looks great from the front, featuring a skull and cross bones as well as the word 'METAL' and some fabric creasing. The left arm is decorated with a dragon tattoo and a black wristband which seem appropriate for the character.
The guitarist's legs are dual-moulded so include a pair of black trousers and white boots. Both are printed with some attractive detail on the front, notably including four yellow lightning bolts and a studded belt. The metallic silver details are slightly shiny so look particularly impressive under bright light conditions. This is the only minifigure in the series which includes two faces, one of which features a frown while the other is yelling.
A red and white electric guitar completes the figure. This guitar element has only appeared twice before and the printed design is entirely new so I am pleased to add it to my collection. However, the plethora of guitarists which have appeared in past series of the Collectable Minifigures may reduce the appeal of the Gong and Guitar Rocker. Even so, the figure looks great and will undoubtedly fit well in 70620 NINJAGO City.
The GPL Tech works for Garmadon Propulsion Laboratories and is a huge fan of Batman! The 'GIT' tag on her jacket might refer to the Gotham Institute of Technology, perhaps revealing that she has traveled between realms after the destruction of the barriers in The LEGO Movie. On the other hand, it may simply be a name tag or the initials of a graphic designer who worked on this series.
This is yet another impressive minifigure. She sports a white lab coat over her Batman shirt and the coat continues onto the dual-moulded legs. The printing around the hips does not line up perfectly but I like the rows of buttons and the pen in her top pocket is a lovely detail. Her comically enormous glasses are excellent too.
The GPL Tech is equipped with a folding laptop and a red mug. Unfortunately, there is no printing on the laptop screen and the mug is also left plain which seems a shame. This would have been a good opportunity to produce a black cup with the bat symbol on it, thereby complementing the minifigure's shirt!
The Sushi Chef was among my most anticipated minifigures of the series and it does not disappoint. The bald head accessory looks superb and includes a black and white bandana to match the rest of his uniform, consisting of a printed robe, white trousers and black boots. This dual-moulded colour combination has not appeared before and is perfect for an updated Grand Admiral Thrawn minifigure.
The robe features black fabric at the edges and is covered with a shrimp pattern. This continues across both sides of the torso and it looks brilliant, as does the chef's moustache and smiling expression. I am looking forward to adding this minifigure to the Rice and Shine sushi bar on the top level of 70620 NINJAGO City, for which he was presumably designed.
He is fully prepared for working at the restaurant, including a rare pearl silver cleaver along with some new 1x1 sushi tiles. It is quite surprising that the existing sushi piece was not re-used but I always welcome a new design and it is good to see two such accessories included, one of which is attached to a black cylinder to represent the sushi before slicing. I imagine this will prove to be a popular minifigure even for those who have no interest in NINJAGO as he would fit perfectly into any city environment.
The LEGO NINJAGO Movie Collectable Minifigures were met with a very positive response when they were revealed last month but the colourful N-POP Girl appeared to be the most popular of all. It is easy to see why as the pastel colours of her hair and dress are unlike any minifigure we have seen before and the level of printed detail is exceptional, most notably including a depiction of Unikitty on her torso! The back is printed with matching symbols and two stylised hearts adorn the spring yellowish green and medium blue boots.
The face looks suitably cheerful and the hair is as colourful as the rest of the figure, dyed in blue and pink. This piece first appeared on Harley Quinn and appears just as impressive here, with texturing on every surface and elaborate pigtails. The striped tutu is even more colourful, including pink, bright light yellow and spring yellowish green decoration, all of which is printed on a white component.
A pink and blue teddy bear accompanies the N-POP Girl so the colours of her hair, clothing and accessory are all properly coordinated. This is certainly in the running for my favourite minifigure of the entire series which says a great deal as I think the standard has been very high throughout the range as a whole.
Overall
LEGO's printing and moulding techniques are becoming more advanced as each year passes and that is certainly evident here. The series includes some of the most detailed headgear we have seen, ranging from elaborate aquatic helmets to simple hair pieces which include extraordinary textured detail. Furthermore, the designs on the torsos and legs look fantastic, although the absence of back printing is disappointing on certain minifigures.
View image at flickr
Some figures are certainly weaker than others, as in every wave. Characters such as the Gong and Guitar Rocker seem unlikely to fulfill a major role within the film while very similar versions of Lloyd, Nya, Kai and Master Wu appear in other sets which may reduce their appeal. However, I think the overall range of characters and the quality of the minifigures is excellent so I would have no hesitation in recommending the whole series. My favourites are the Sushi Chef, the N-POP Girl, Shark Army General #1 and Volcano Garmadon but I would be interested to hear yours.
I hope you have found this review informative. Let us know by liking this article and share your thoughts on the range in the comments below.
This set was provided for review by The LEGO Group but the review is an expression of my own opinions.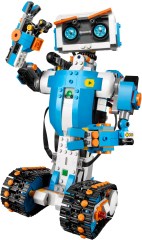 LEGO Boost, the computerised LEGO system for kids too young for Mindstorms, is released on August 1st and can now be pre-ordered from shop.LEGO.com.
(USA | Canada | UK | Germany | France).
If you can't wait that long it's already available on eBay.co.uk for a 5% discount, at £142.99.
We have one on order and will review it as soon as we can.
View more articles »
Latest reviews
View more reviews »