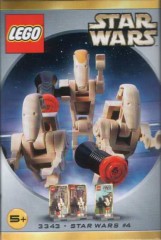 Rebrickable inventory for 3343-1: 2 Battle Droids and Command Officer Minifig Pack - Star Wars #4
This set inventory has been obtained from Rebrickable. View more information about the inventory and find out if you can build this set from parts in your collection at Rebrickable.com.
Notice any anomalies? Submit an inventory change at Rebrickable.
| Design | Image | Qty | Colour | Part name |
| --- | --- | --- | --- | --- |
| 4349 | | 3 | Black | Equipment Loudhailer / Blaster / Space Gun |
| 3022 | | 3 | Dark Gray | Plate 2 x 2 |
| 30566 | | 3 | Dark Gray | Tile Special 6 x 6 x 2/3 with 4 Studs and Embossed 'STAR WARS' |
| 4142689pb2 | | 1 | [No Color/Any Color] | Trading Card: Battle Droid 1 |
| 4142689pb3 | | 1 | [No Color/Any Color] | Trading Card: Battle Droid 2 |
| 4142689pb1 | | 1 | [No Color/Any Color] | Trading Card: Command Officer |
| 30377 | | 1 | Tan | Arm Mechanical [Battle Droid] |
| 30377 | | 6 | Tan | Arm Mechanical [Battle Droid] |
| 30376 | | 3 | Tan | Legs Mechanical, Battle Droid |
| 30378 | | 2 | Tan | Minifig Head Special with Clip, Mechanical (Battle Droid) [Plain] |
| 30378pr0001 | | 1 | Tan | Minifig Head Special with Clip, Mechanical with Orange Insignia Print (Battle Droid Commander) |
| 3023 | | 2 | Tan | Plate 1 x 2 |
| 3070b | | 1 | Tan | Tile 1 x 1 with Groove |
| 3070b | | 1 | Tan | Tile 1 x 1 with Groove |
| 30375 | | 2 | Tan | Torso Mechanical, Battle Droid |
| 30375ps1 | | 1 | Tan | Torso Mechanical, Battle Droid with Orange Insignia Print |
| 6141 | | 1 | Trans-Neon Orange | Plate Round 1 x 1 with Solid Stud |
| 6141 | | 3 | Trans-Neon Orange | Plate Round 1 x 1 with Solid Stud |