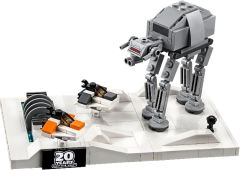 Rebrickable inventory for 40333-1: Battle of Hoth - 20th Anniversary Edition
This set inventory has been obtained from Rebrickable. View more information about the inventory and find out if you can build this set from parts in your collection at Rebrickable.com.
Notice any anomalies? Submit an inventory change at Rebrickable.
| Design | Image | Qty | Colour | Part name |
| --- | --- | --- | --- | --- |
| 48729b | | 1 | Black | Bar 1L with Clip [Cut Edges and One Side Hole] |
| 48729b | | 1 | Black | Bar 1L with Clip [Cut Edges and One Side Hole] |
| 99781 | | 2 | Black | Bracket 1 x 2 - 1 x 2 |
| 85861 | | 1 | Black | Plate Round 1 x 1 with Open Stud |
| 85861 | | 1 | Black | Plate Round 1 x 1 with Open Stud |
| 61252 | | 2 | Black | Plate Special 1 x 1 with Clip Horizontal [Thick Open O Clip] |
| 3706 | | 1 | Black | Technic Axle 6 |
| 87079pr0189 | | 1 | Black | Tile 2 x 4 with 20 Years LEGO Star Wars print |
| 2412b | | 2 | Black | Tile Special 1 x 2 Grille with Bottom Groove |
| 3024 | | 1 | Dark Bluish Gray | Plate 1 x 1 |
| 3024 | | 1 | Dark Bluish Gray | Plate 1 x 1 |
| 3023 | | 2 | Dark Bluish Gray | Plate 1 x 2 |
| 3710 | | 1 | Dark Bluish Gray | Plate 1 x 4 |
| 3795 | | 1 | Dark Bluish Gray | Plate 2 x 6 |
| 6141 | | 2 | Dark Bluish Gray | Plate Round 1 x 1 with Solid Stud |
| 6141 | | 1 | Dark Bluish Gray | Plate Round 1 x 1 with Solid Stud |
| 60478 | | 4 | Dark Bluish Gray | Plate Special 1 x 2 with Handle on End [Closed Ends] |
| 54200 | | 1 | Dark Bluish Gray | Slope 30° 1 x 1 x 2/3 (Cheese Slope) |
| 54200 | | 2 | Dark Bluish Gray | Slope 30° 1 x 1 x 2/3 (Cheese Slope) |
| 3070b | | 1 | Dark Bluish Gray | Tile 1 x 1 with Groove |
| 3070b | | 1 | Dark Bluish Gray | Tile 1 x 1 with Groove |
| 18674 | | 4 | Dark Bluish Gray | Tile 2 x 2 Round with Center Stud |
| 15535 | | 5 | Dark Bluish Gray | Tile 2 x 2 Round with Hole |
| 2412b | | 2 | Dark Bluish Gray | Tile Special 1 x 2 Grille with Bottom Groove |
| 4733 | | 1 | Light Bluish Gray | Brick Special 1 x 1 Studs on 4 Sides |
| 30237b | | 1 | Light Bluish Gray | Brick Special 1 x 2 with Vertical Clip [Open O Clip] |
| 22885 | | 7 | Light Bluish Gray | Brick Special 1 x 2 x 1 2/3 with four studs on one side |
| 4740 | | 4 | Light Bluish Gray | Dish 2 x 2 Inverted [Radar] |
| 30162 | | 1 | Light Bluish Gray | Equipment Binoculars |
| 3023 | | 2 | Light Bluish Gray | Plate 1 x 2 |
| 3666 | | 2 | Light Bluish Gray | Plate 1 x 6 |
| 3022 | | 2 | Light Bluish Gray | Plate 2 x 2 |
| 3021 | | 1 | Light Bluish Gray | Plate 2 x 3 |
| 35480 | | 1 | Light Bluish Gray | Plate, Modified 1 x 2 Rounded with 2 Open Studs |
| 32828 | | 2 | Light Bluish Gray | Plate Round 1 x 1 with Hole and Horizontal Bar |
| 32828 | | 1 | Light Bluish Gray | Plate Round 1 x 1 with Hole and Horizontal Bar |
| 63868 | | 8 | Light Bluish Gray | Plate Special 1 x 2 with Clip Horizontal on End |
| 18649 | | 4 | Light Bluish Gray | Plate Special 1 x 2 with Handles on Ends |
| 61409 | | 2 | Light Bluish Gray | Slope 18° 2 x 1 x 2/3 with 4 Slots |
| 85984pr0015 | | 1 | Light Bluish Gray | Slope 30° 1 x 2 x 2/3 |
| 3298 | | 2 | Light Bluish Gray | Slope 33° 3 x 2 |
| 24309 | | 2 | Light Bluish Gray | Slope Curved 3 x 2 No Studs |
| 2723 | | 4 | Light Bluish Gray | Technic Disk 3 x 3 |
| 3068b | | 4 | Light Bluish Gray | Tile 2 x 2 with Groove |
| 15712 | | 4 | Light Bluish Gray | Tile Special 1 x 1 with Clip with Rounded Edges |
| 2412b | | 4 | Light Bluish Gray | Tile Special 1 x 2 Grille with Bottom Groove |
| 88646 | | 1 | Light Bluish Gray | Tile Special 4 x 3 with 4 Studs in Centre |
| 24299 | | 2 | Light Bluish Gray | Wedge Plate 2 x 2 Left |
| 24307 | | 2 | Light Bluish Gray | Wedge Plate 2 x 2 Right |
| 54200 | | 2 | Orange | Slope 30° 1 x 1 x 2/3 (Cheese Slope) |
| 54200 | | 1 | Orange | Slope 30° 1 x 1 x 2/3 (Cheese Slope) |
| 3070b | | 1 | Orange | Tile 1 x 1 with Groove |
| 3070b | | 1 | Orange | Tile 1 x 1 with Groove |
| 54200 | | 2 | Trans-Black | Slope 30° 1 x 1 x 2/3 (Cheese Slope) |
| 54200 | | 1 | Trans-Black | Slope 30° 1 x 1 x 2/3 (Cheese Slope) |
| 3062b | | 2 | Trans-Clear | Brick Round 1 x 1 Open Stud |
| 25893 | | 1 | Trans-Clear | Plate Round 1 x 1 with Open Stud and Bar on Underside |
| 25893 | | 1 | Trans-Clear | Plate Round 1 x 1 with Open Stud and Bar on Underside |
| 3023 | | 4 | Trans-Light Blue | Plate 1 x 2 |
| 3005 | | 10 | White | Brick 1 x 1 |
| 6112 | | 2 | White | Brick 1 x 12 |
| 14716 | | 4 | White | Brick 1 x 1 x 3 |
| 3004 | | 3 | White | Brick 1 x 2 |
| 3245c | | 1 | White | Brick 1 x 2 x 2 with Inside Stud Holder |
| 22886 | | 2 | White | Brick 1 x 2 x 3 with Bottom Stud Holder |
| 2454a | | 2 | White | Brick 1 x 2 x 5 with Blocked Open Studs and Bottom Stud Holder with Asymmetric Ridges |
| 3622 | | 1 | White | Brick 1 x 3 |
| 3010 | | 6 | White | Brick 1 x 4 |
| 3009 | | 4 | White | Brick 1 x 6 |
| 2357 | | 2 | White | Brick 2 x 2 Corner |
| 2921 | | 1 | White | Brick Special 1 x 1 with Handle |
| 87087 | | 4 | White | Brick Special 1 x 1 with Stud on 1 Side |
| 32952 | | 1 | White | Brick Special 1 x 1 x 1 2/3 with Studs on 1 Side |
| 60581 | | 1 | White | Panel 1 x 4 x 3 [Side Supports / Hollow Studs] |
| 3024 | | 1 | White | Plate 1 x 1 |
| 3024 | | 3 | White | Plate 1 x 1 |
| 60479 | | 5 | White | Plate 1 x 12 |
| 3023 | | 4 | White | Plate 1 x 2 |
| 3710 | | 2 | White | Plate 1 x 4 |
| 15573 | | 6 | White | Plate Special 1 x 2 with 1 Stud with Groove and Inside Stud Holder (Jumper) |
| 85984 | | 2 | White | Slope 30° 1 x 2 x 2/3 |
| 3040b | | 4 | White | Slope 45° 2 x 1 with Bottom Pin |
| 4460b | | 3 | White | Slope 75° 2 x 1 x 3 with Hollow Stud |
| 3665 | | 1 | White | Slope Inverted 45° 2 x 1 |
| 3660 | | 2 | White | Slope Inverted 45° 2 x 2 [Ovoid Bottom Pin, Bar-sized Stud Holes] |
| 2449 | | 2 | White | Slope Inverted 75° 2 x 1 x 3 |
| 32064a | | 2 | White | Technic Brick 1 x 2 with Axle Hole Type 1 [+ Opening] and Bottom Pin |
| 6636 | | 2 | White | Tile 1 x 6 with Groove |
| 51739 | | 2 | White | Wedge Plate 2 x 4 |