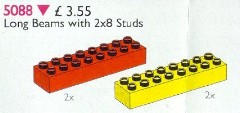 Rebrickable inventory for 5088-1: Duplo Long Beams 2 x 8 Red and Yellow
This set inventory has been obtained from Rebrickable. View more information about the inventory and find out if you can build this set from parts in your collection at Rebrickable.com.
Notice any anomalies? Submit an inventory change at Rebrickable.
| Design | Image | Qty | Colour | Part name |
| --- | --- | --- | --- | --- |
| 4199 | | 2 | Red | Duplo Brick 2 x 8 |
| 4199 | | 2 | Yellow | Duplo Brick 2 x 8 |