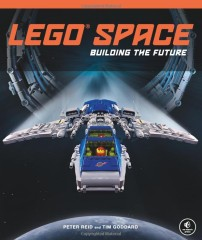 LEGO Space: Building the Future by Peter Reid and Tim Goddard is the latest LEGO book to be published by No Starch Press and is, quite simply, one of the best LEGO books ever.
Before I start gushing on about it I should state that I've known Pete and Tim for years and consider them good friends. I was at the first 'LEGO fest' that Pete attended, some 11 years ago. In the early days his building techniques were, shall we say, questionable, often involving knives, paint, glue and modelling clay, but since then he's cleaned up his act and is now an extreme purist, but one who's not afraid to push the boundaries of building legality, often using and connecting pieces in ways they were not designed to be. His models are simply masterpieces. One you will all be familiar with is his Exo-Suit which has just passed review at Cuusoo and will be available next year.
This book has been a labour of love for Pete, Tim and others for the last year or so and their skill and passion has resulted in an exceptional piece of work.
Throughout the book there's a story that starts with a quick summary of space exploration to date and continues with how the moon was colonised, our first contact with aliens, how we found a way to travel vast distances and colonise a planet in another solar system. It's written in the past tense, as if it's a history book, and what's particularly clever about it is that it weaves together many of the LEGO space factions: classic space, Futuron, Blacktron, Space Police and Ice Planet (but avoiding their names to prevent legal problems), and explains their role in the history.
Of course, it's not all plain sailing and dark forces emerge to disrupt things. The story is influenced by Alien and The Thing and once you start reading it you'll want to continue to the end to find out the fate of mankind.
I particularly enjoyed how many characters and companies are named after or modelled on other AFOLs: BlueMoose industries, Captain Diment, Professor Dade and Major Stafford for example. (I hope I got their ranks right!)
The story is lavishly illustrated using exquisitely detailed LEGO scenes. The backdrops, such as this one, are simply stunning.
The photography is excellent throughout, having been done largely by ex-Brickset administrator Bluemoose.
Interweaved with the story are building instructions for around a dozen models which feature in it, mostly small spaceships or robots.
They provide a good feel for Pete and Tim's building style: very high parts density and, as I said before, borderline illegal techniques, such as using lever bases without the lever, minifig hands ripped from torsos and clips joined in ways that they are not designed to be. All things which you'd never see in an official LEGO set.
If all you've built are official models, it will be an education...
The story mentions many types of spaceship, robot, or other technology and pages such as this illustrate them to showcase Pete and Tim's outstanding models.
I've chosen to show a picture of this particular one because I'm a big fan of Pete's robots. They are very cleverly, if delicately, constructed and ooze personality. Instructions are provided for four or so of them so you'll be able to build your own.
Here are two I made earlier using instructions from the book: an HC series and a M364 Turtle. The book even inspired me to build a section of backdrop in typical Pete Reid style.
The turtle is easy enough to build to match the instructions, but the HC is another matter. Many of the parts are like rocking horse droppings and, like me, you'll probably need to make colour substitutions if you tackle it.
There are not many books that inspire me enough to actually assemble the parts to build the models in them, but this one did and I plan to build most of the others.
The book succeeds on many levels:
It's a lavishly illustrated story book that weaves LEGO space themes into an imaginary future of mankind;
It's a showcase for Pete and Tim's exceptional models;
It provides building instructions for some great models and inspiration to build your own;
It's a joy to flick through: the design and photography are top-notch and the result is a very high quality publication.
Overall it's an excellent book and if you buy just one LEGO book this year, make it this one. Pete and Tim can be justly proud of their efforts and I hope they collaborate on a second book. I think they need a breather first, though!
You can buy it from Amazon: Amazon.co.uk
(£14) | Amazon.com
($16) | Amazon.ca
($17). It's worth every penny...
--
Like buses, books on LEGO Space are few and far between and when they do turn up they all arrive at once. I've just received Build your own Galaxy published by Heel and written by the German team behind Build your own LEGO Vehicles and will review this one in a few days.
Commenting has ended on this article.