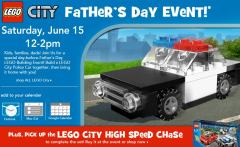 Thanks to tkatt for news of this event happening on Saturday 15th, 12-2pm:
"Kids, families, Dads! Join Us for a special day-before-Father's Day LEGO Building Event! Build a LEGO City Police Car together, then bring it home with you!"
Now I have to ask, what sort of language is that? 'bring it home with you' ? If you're in TRU and they allow you to keep the model, surely you 'take it home with you', do you not? Or has America gone mad? :-)
The Free Dictionary says "In most dialects of American English bring is used to denote motion toward the place of speaking or the place from which the action is regarded... Take is used to denote motion away from such a place."
Maybe like 'could care less' instead of the correct 'couldn't care less', and the impolite 'can I get' instead of 'may I have', it is common to speak like that in the US? Fill me in...
Commenting has ended on this article.