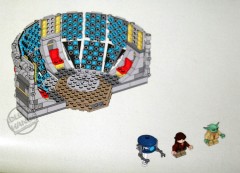 This set has been sent out to journalists and webmasters to promote the Yoda Chronicles premiere next week. You can read more and see more pictures at Game Informer and Idle Hands.
If you weren't lucky enough to get one yourself (I certainly wasn't!) you can bid a princely sum for one on eBay
.
(Thanks Paul at Idle Hands for the picture and LostInTranslation for the news).
Update: The Brick Show team has published a video review of the set on YouTube.
Commenting has ended on this article.