The BIONICLE reboot is continuing into 2016 with even more amazing sets! This time, Ekimu the Mask Maker has instructed the Toa team to find and tame the Great Elemental Creatures before the evil Umarak can do it first.
First, I will be reviewing 71308 Tahu - Uniter of Fire. Tahu has been the "mascot" of the theme for as long as people can remember, and his 2015 Master form was generally well-received. But can Uniter Tahu compete? Read on to find out!
Box and Contents
Most buyers loved the hexagonal boxes that debuted when BIONICLE first returned last year, but it was universally agreed upon that they were rather flimsy. LEGO seems to have fixed that issue this year by using a stronger cardboard. I am very happy and surprised!
The top area of the box of each new BIONICLE set in 2016 is adorned with the iconic logo and big bad Makuta's former mask, the Mask of Control. The mask itself is included in this first wave and reclaiming it is a major focus of the story.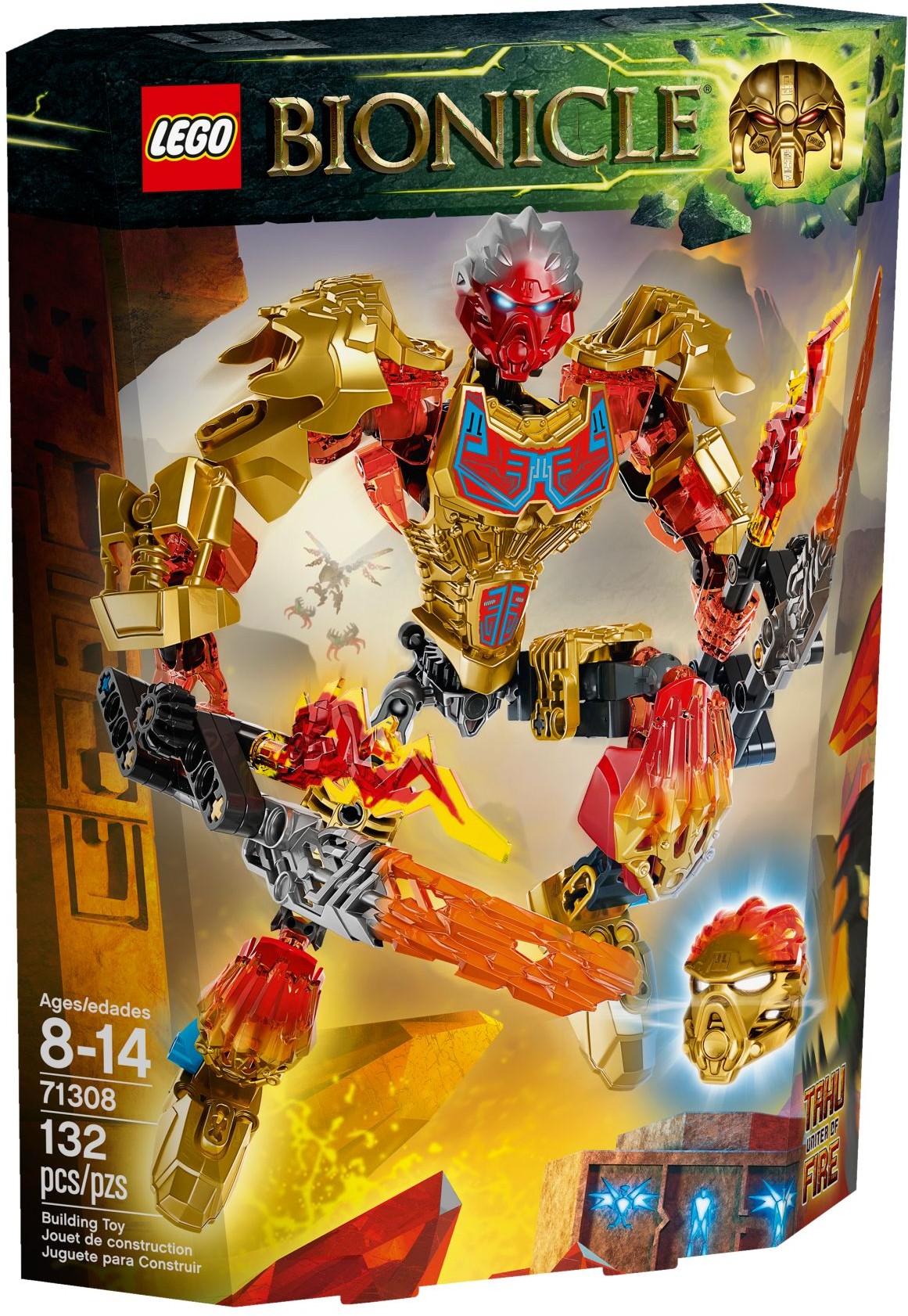 Below the banner, we have Tahu in a heroic pose finding his Golden Mask of Unity. What will he do with the mask? Unite with 71303 Ikir - Creature of Fire, who is seen flying and combating shadow traps in the volcanic background behind Tahu. I have to say, the artwork is very beautiful. Other than that, we have the usual part count and age range. (8-14? Ha!)
On the back, we have a neat comic strip in the style of last year's comics and online animations. Play features, including the combination model with Ikir, are also demonstrated here.
Another little tidbit: the "Buildable Figures" logo, which first showed up on packaging for the Star Wars Constraction sets, are now finding their way onto BIONICLE boxes. An interesting classification!
Masks and Weapons
Let's start off with the gear that makes a Toa a Toa.
Two masks are included in this set. One is a normal red one, with silver blending. I really enjoy this mask and the crystalline look at the top on its own, but on Tahu it throws off the color scheme a bit. I also like the shaping of the mask a lot, and to me it's very much a Tahu mask; much more than the Master version's Mask of Fire anyway.
The second mask is the same mold, but gold instead with tran-orange blending. I actually like this mask on Tahu much more, and it reminds me of the power-drained Golden Masks of Power in the summer 2015 wave; ironically here, Tahu was one of only two Toa who didn't get one then.
The cool Easter egg present on the forehead of both masks is a Nuva symbol from 2002! I'm sure many retro BIONICLE fans will appreciate this minor detail.
Tahu also sports two identical flame swords. Though some might find them needlessly complicated, I am very much a fan of the function that designer John Ho incorporated into them. The simple twist of a gear can raise or lower the orange fire sword piece, which is new. The red and yellow fire that doesn't move is a common piece seen many times before.
The Completed Model
Tahu stands tall and mighty in his brand new form, ready to face whatever evil comes his way.
The first thing that becomes apparent once assembled is "Wow, so much gold." Yes, I would agree, but it doesn't bug me. It makes Tahu seem very much like a leader and a majestic figure. The additional splashes of blue on his torso and ankles are much welcomed.
The arm-moving gear function from 2015 has been removed; in its place is a gear at the rear that can be turned to move the entire upper-body left and right! I am pretty satisfied with this feature, but my gears on Tahu came very stiff so I'm hoping they'll loosen up over time. Let me know if you are having this issue too.
One more con is the length of the arms. They look very short in comparison to the rest of the body's proportions, especially the leg length.
Finally, Tahu and the rest of the 2016 sets include a brand new, shorter eyestock. Gone are the days of accidentally popping off masks when you don't want then to be popped off!
Verdict
Tahu - Uniter of Fire is a stellar set, but he is by no means perfect. I know Technic-heavy builds aren't everyone's cup of tea; especially for those who have grown accustomed to the simple nature of popping on CCBS bones and armor. However, overlooking that I think he'd be a worthy purchase for any collector of BIONICLE or Constraction. For me, the pros easily outweigh the cons.
Tahu's united model with Ikir makes him even better. Plus, he is a goldmine (no pun intended) for parts.
Also, he is a gem when it comes to posing!
And quite the adversary for 71310 Umarak the Hunter...
All twelve BIONICLE 2016 wave one sets are now available in stores.
JANGBRiCKS' Video Review
Sponsored content