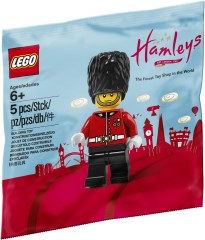 Hamley's, the famous toy store on Regent Street in London, now has its own exclusive minifigure, a royal guard. It's similar to the one in collectable minifigures series 5, 8805 Royal Guard, but with a happier expression and a couple of medals on its chest. It's thought it'll retail for £6.
BricksFanz has published a couple of images, this one and one out of bag, so head on over for a closer look.
This is not the first time a toy store has had its own minifig. In 2013 LEGO produced a similar one, 5001121 BR LEGO Minifigure, for BR stores in Scandinavia.
17 comments, latest one posted 23 minutes ago.
21 likes
Sponsored content