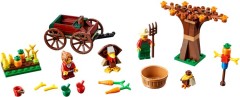 Halloween must be just around the corner (!) because this year's seasonal All Hallows' Eve set, 40260, has been found in the wild and as is usual for seasonal sets its instructions provide an image of the next one in the series, which will be 40261 Thanksgiving.
It consists of a vegetable patch, cart, autumnal tree, scarecrow, turkey, two minifigures and a pitchfork.
From Facebook, via Hoth Bricks.
9 comments, latest one posted 12 minutes ago.
10 likes