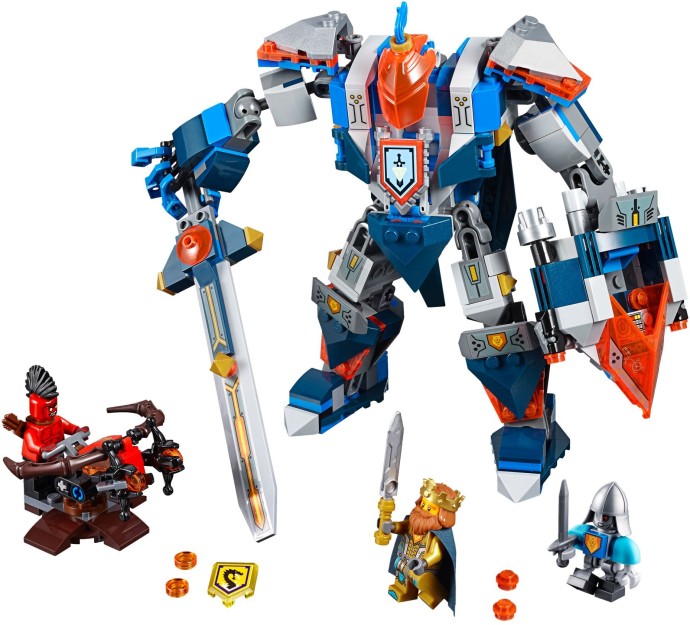 I suspect that I wasn't alone in not really knowing what to make of Nexo Knights when images of the latest LEGO 'big bang' theme surfaced a few months back, and when the sets started to appear on shelves I was still on the fence. On the one hand, what's not to like about a Steampunk Castle mash-up? On the other, however, some of the set designs are a bit 'out there' for me. What I really needed was a Nexo Knights offering to encourage me to dip my toe in, and thankfully that temptation presented itself in the form of Set 70327 The King's Mech. As a big fan of LEGO mechs going back to the likes of Exo-Force and beyond, I was interested to see how a Nexo Knights-styled mech would stack up against some of its robotic predecessors. Read on to find out….
Box & Contents
The modestly-sized box measures approximately 22cm by 26 cm x 6 cm and features surprisingly restrained dark blue and orange branding superimposed with silver Nexo Knights lettering. The front of the box is dominated by an action shot of the King's Mech under attack, with hazy imagery including a space-aged castle and a windmill in the background. Arch theme villain Jestro peers diabolically from the lower left corner of the box, and there are also images of the set's three minifigures and a couple of shields, together with a promise of "2 Nexo Powers" – intriguing….
The back of the box (below) contains a number of panels which highlight a few aspects of the set, although I don't think they make a very compelling case and indeed probably undersell some of the best play features. There's also advertising for the free Nexo Knights app which interacts with shields contained in this and other Nexo Knights sets to upgrade in-game character skills.
Opening the box reveals three sealed, numbered bags of elements, a single instruction booklet and a small sticker sheet which you can see below. The sticker sheet was loose in the box, but luckily it survived in good condition. It's small, with an area of only 6 cm x 9 cm, but it crams in a total of 12 stickers.
The instruction booklet (front cover below) includes 84 pages from cover to cover, 70 of which are taken up by the building guide and two of which contain an inventory of the set's 375 elements. The rest of the booklet consists of advertising, including three pages showing off a number of the other Nexo Knights sets, a two-page spread showcasing the Nexo Knights minifigure line-up, and a couple of pages about the Nexo Knights app.
Minifigures
The set contains three minifigures – Flame Thrower, King Halbert and a King's Bot. According to the Nexo Knights website, baddie Flame Thrower (below) is a feared lava soldier whose insides are a big inferno of fire that he can shoot out at the enemy at any time. Lordy. His red, muscular torso, which has dark red hands, is new and thus far exclusive to the Nexo Knights theme, as are his black legs with a dark red and silver print and his fearsome red head with fangs and bright orange eyes. His black mohawk has however previously graced a total of four minifigures in this colour, most recently as part of the Ninjago theme.
Although Flame Thrower doesn't have an alternate expression, the back of his head is printed as is the back of his torso. He carries a reddish brown quivver of arrows on his back, although it isn't shown in the picture below so you can get a good look at the rear torso print.
King Halbert is described as the nervous leader of the realm whose skills include giving long speeches and waving at people. He sports a new pearl gold torso and pearl gold legs, both printed in multiple colours with an intricate armour pattern. His crown, which comes complete with straight mid-length dark orange hair, is unique to this minifigure although a variant with reddish brown hair has previously appeared as part of the Series 13 Classic King Collectible Minifigure. His bushy dark orange beard is also new in this colour, although has previously appeared as part of a number of different minifigures in reddish brown or white. King Halbert's regal attire is rounded off by a dark blue cape; while these have existed since 2006, according to Bricklink the cape accompanying this minifigure is a new variant made of starched, shiny fabric and is thus far unique to this set in this colour.
King Halbert's armour print extends onto the back of his torso, which you can see below with the cape removed. You can also get a good look at the reverse of the crown, including King Halbert's dark orange hair.
The final minifigure to be included in this set is a King's Bot. The torso of this unusual minifig is a new element which bears more than a passing resemblance to a Star Wars Battle Droid mechanical torso. Each of the bot's legs is represented by a new element comprising a pearl dark grey foot and a flat silver clip which attaches each leg to the torso, while the shoulders are a pair of dark azure soft plastic elements which are also new. The design on the back-printed flat silver head is unique to this minifigure, and although the helmet has been around since the 1980's this is the first time it's appeared in this flat silver colour. Completing the roster of new elements is the blue 1 x 1 tile printed with a yellow symbol on an orange pentagonal shield which is attached to the front of the torso.
You can see the King's Bot from behind in the picture below; I've removed the bot's helmet so that you can get a good look at the alternate head print. As you may have already gathered from the description above, every part of this minifigure is new, apart from the 1L bars with clip which make up the bot's hands.
The Build
The instruction booklet splits the build into two stages. Stage 1 kicks off with assembly of the three minifigures, after which attention switches to the construction of Flame Thrower's double crossbow shooter which you can see in the picture below. As the name suggests, a pair of crossbows are mounted on the front of the shooter, and there's a small platform at the back for Flame Thrower to stand on while operating the weapon.
The design of crossbow utilised here first appeared last year in Set 75105 Millennium Falcon where it served as Chewbacca's bowcaster, and its use has spread to the Nexo Knights and Friends themes this year. The crossbow is capable of firing its ammunition, namely trans orange 1 x 1 round tiles, a good few metres; the set comes with five of these round tiles which is a good job as I've already managed to lose a couple while thoroughly 'testing' the crossbow. The shooter is hinged and is capable of a limited range of up/down movement, but strangely it can't be rotated.
Next to be built is what LEGO describes as 'the flying shield' (below). This is basically a small, one-man craft which attaches to the left arm of the King's Mech by way of a Technic pin and can be undocked and swooshed as desired. The trans-neon orange windscreen is a new element; it's unfortunately stickered rather than printed. The tail is made up of a dark bluish grey 2 x 4 vehicle spoiler which first appeared last year and it's also stickered. The printed 2 x 2 light bluish grey tile which represents the flight controls has been around since 2011, having first appeared in Set 7930 Bounty Hunter Assault Gunship. Twin side-mounted stud shooters provide some firepower, but the open canopy means that the pilot doesn't get much protection.
Stage one of the build concludes with construction of the torso of the King's Mech (below). The trans-neon orange helmet visor, which can be pulled forwards and downwards to partially protect the cockpit, has only appeared once before, in a Hero Factory set back in 2013. A couple of stickers provide some decoration, while a pair of dark blue trapezoid flags help to form the lower aspect of the cockpit. You can see an interesting new element peeking out from the side of the torso, namely a small pearl gold pyramid, or as Bricklink calls it, a Slope 45 1 x 1 x 2/3 Quadruple Convex. This element seems to be ubiquitous across the Nexo Knights theme in a variety of colours, although it only appears in pearl gold in this set.
The mech is completed during Stage 2 of the build, and you can see the finished mech below. The upper and lower limbs attach to the torso via large ball and socket joints, and these are also used to provide multiple points of articulation in the arms and legs meaning that the mech can be posed quite extensively. A couple of new elements – a flat silver 4 x 4 pointed wedge and a trans-neon orange 4 x 4 wedge plate – are used to fashion a pair of eye-catching epaulettes on the mech's shoulders, and the 4 x 4 pointed wedge also makes an appearance in dark blue as part of the legs and at the base of the torso. As befits "a mighty robotic suit of armor for King Halbert to defend the people of Knighton" the mech's main weapon is a huge sword; this looks suitably bling thanks to the use of stickers and pearl gold pyramids for decoration, although it would have looked even better in flat silver or better still chrome (I can dream….).
LEGO mechs can sometimes have a tendency to appear messy and unfinished from behind, but that's thankfully not the case here. The rear of the torso incorporates a couple of clips for weapons storage, and there's a also small key sticking out of the back which suggests that the mech is clockwork and needs winding in order to function. A couple of dark blue tapered 1 x 12 hinge plates hang down from the shoulders in true Exo-Force fashion; these attach to the torso via small ball and socket joints meaning that you can angle them as you see fit. Elsewhere, the backs of the legs are neat and tidy, and overall the mech looks pretty good from behind.
The Verdict
Overall, while it doesn't necessarily reach the heights of some of my favourite mid-size mechs of recent times such as Set 6862 Superman Vs Power Armor Lex and Set 9455 Fangpyre Mech, the King's Mech is nevertheless a decent effort. It's stable, the limbs feature multiple points of articulation allowing it to be readily posed, and it looks pretty good both front and back. In addition, the massive sword is suitably over-the-top, the detachable 'flying shield' is a nice twist on the standard mech specification, and Flame Thrower's double crossbow shooter is a nice (if woefully outgunned) little accessory. On the downside, I'd have preferred the mech to have a more enclosed canopy, and the colour scheme doesn't really do it for me, but these are fairly minor gripes and I'd almost certainly have bought the set myself if LEGO hadn't provided a review copy.
Set 70327 The King's Mech contains 375 elements and three minifigures. It's available now at an RRP of £29.99 / US$29.99 / €32.99. Thanks to the LEGO AFOL Relations & Programs team for providing Brickset with a copy of the set to review. I'm required to let you know that all views and opinions expressed in this review are mine and mine alone, and I'm sure that you'll let me know soon enough in the comments below if you disagree with any of them!