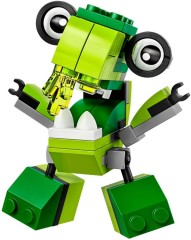 It's official: after BIONICLE G2, Mixels is the next LEGO theme to get the axe after this October's Series 9 hits shelves.
This description from TV show producer Jordan Reichek on LinkedIn confirms all, ending months of speculation since the theme's absence at SDCC:
LEGO / CARTOON NETWORK, "MIXELS"-
SHOWS FINISHED AND DELIVERED...LAST EPSIODE PREMIERS IN SEPTEMBER.
THANKS CARTOON NETWORK AND LEGO! GREAT FUN!
I'm not surprised at all, to be honest. The line just has not been as popular this year as it was in its first couple, and most LEGO themes with media ties like Mixels only last three or so years anyway. Regardless, being a collectable theme I would argue it could have continued on just fine. But to be fair... I blame Cartoon Network's carelessness for the franchise and its fans. No matter what though, it will always be remembered.
We here at Brickset are doing a few things to celebrate the theme's end, which you can read after the break...
A monthly four-part eulogy article series starting in September
Series 9 set reviews following part one
Cartoon finale "Nixel, Nixel, Go Away" review
What do you think? Are you disappointed? Why do you think Mixels is ending? Leave a comment and let us know!