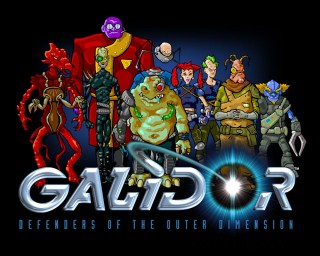 You have probably heard about Galidor. If that's the case, then you have probably been told that it was "bad", "horrendous", "not a construction toy", or just plain "awful". And they would be right.
But just why was Galidor so bad? It was a constraction toy, and those have done quite well in the past. Read on, and all shall be revealed. But a word of warning. Some things once seen cannot be unseen.
I'm going to present this article as a comparison of aspects of Galidor to similar aspects in other themes.
First, it would probably help to give a little backstory of Galidor. Back in 2002, LEGO wanted a toy line/tv series like other toy companies had profited off of for decades. Their answer: Galidor, a story about a teenage boy, Nick Bluetooth and his friend Allegra who are transported to an alien dimension, to help a group of different aliens stop the evil Gorm from conquering the galaxy. The theme failed miserably (being clearanced for up to 90% off, I hear), and the TV show fared little better.
---
TV Show
Galidor: Defenders of the outer Dimensions was the first full TV show for a LEGO theme. The next LEGO theme to have a TV show was Ninjago, nine years later in 2011, showing how cautious LEGO was of producing TV shows for its toys after Galidor. I'm going to admit, I'm no expert on the Galidor TV series. I watched the first two episodes, and found it impossible to stomach more. For the most part, the show was dry and slow, with only one moment of humor that I can recall. By contrast Ninjago: Masters of Spinjitzu started with plenty of action and comedy, and kept going from there.
I think the failure of some aspects of the Galidor TV series was a real shame. The overall premise of the show wasn't too bad. While it was a fairly by-the-numbers TV series, some of the characters actually had good motivations and backstory (Nick, for example, found hints that his father had traveled to the alien dimension before him, and was still alive, somewhere), rivaling anything Ninjago had to offer. Unfortunately, the show was not engaging enough for young audiences to deliver on its story…
---
Builds
The main downfall of Galidor is simply that there aren't any builds. The extent of building in the Galidor "system" involved constructing the figures, and swapping arms/legs/heads between then. That was it. How is that different from other Constraction themes you ask? To answer that, let us examine the two buildable figure themes closest in release date to Galidor: Bionicle and Knights' Kingdom II.
---
Bionicle allowed the builder to combine the different models into larger or different creations, and each part had at least two connection points. Bionicle parts were even designed to work with Technic parts, to create larger models (Makuta, or Exo-Toa, for example). Most Galidor parts, on the other hand, only had one connection point, for only the Galidor system.
---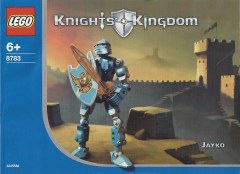 Knights Kingdom II, to be honest, was not a whole lot better from Galidor when it came to the underlying structure of its buildable figures. Hands could only be hands, feet only feet, and no different way for the figures to go together. However, most parts of these buildable Knights had studs or Technic connection points on them, allowing them to be incorporated into other models (the majority of the basic joint elements went on to form the backbone of Mechs for years to come).
---
Overlooking the story, TV series, and lack of construction, let's see how the toys stack up to other lines: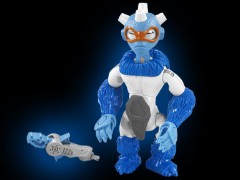 Galidor had a total of 15 sets. Of these, one was never released, and two only had a limited release (LEGO couldn't pull the plug on these sets fast enough…).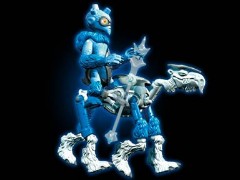 Of these 15 sets, only 9 were original characters. Three characters (Nick Bluetooth, Gorm, and Nepol) had two releases - once as their basic figure for $10, and again as their "deluxe" version for $5 - $10 more, meaning that one had to decide which accessories they wanted with their character, or get a duplicate of a figure they already had.
---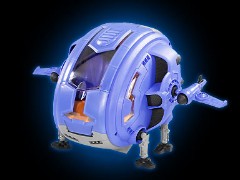 Aside from figures, Galidor had only one other set: 8315 TDN Module. The TDN Module was a larger-on-the-inside spaceship (never heard of that before…), used to carry the Defenders of Galidor around the galaxy. The $40 TDN Module hit a new low for Galidor, containing only 9 pieces (a horrendous $4.44 piece!). TDN Module had a little play value, with positionable wings and two dart shooters.
---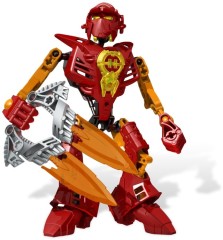 I feel compelled to draw a comparison to Hero Factory here. The first (highly controversial) season of Hero Factory had two sets that included exclusive versions of heroes. One could buy the regular Duncan Bulk, or one could get a slightly different version of him in 7179 Duncan Bulk and Vapour. Or one could get the regular William Furno, or get an armorless version of him and his bike in a different set.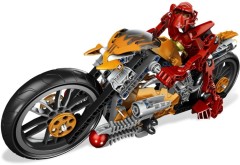 ---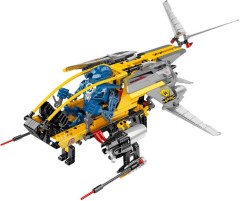 Hero Factory continued to mimic Galidor (is there any wonder the first wave was ill-received?), with the
Hero Drop Ship. Hero Drop Ship had a similar overall shape to the TDN Module, but had a much more reasonable price per piece of $0.13 per piece. Drop Ship had a pair of wings similar to TDN Module, and even had a pair of shooters positioned in the same places. The Drop Ship had a huge advantage over TDN Module in that it came with a generic hero, so the Drop Ship could be a standalone set.
---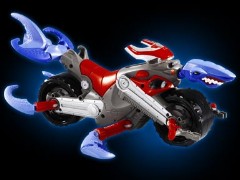 What is this? I don't know, and neither did LEGO. Stuff like this certainly didn't help Galidor sell, though...
---
Electronics in Galidor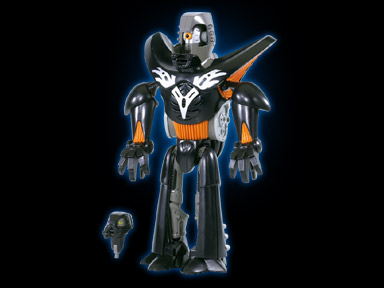 One of the few Galidor sets that is worth anything today is Kek Powerizer, the lone electronically-enabled Galidor set. In the story, Kek Powerizer, is, as the name suggests, a power suit for Jens or Gorm, similar to the Bionicle Exo-Toa (though the figures could not fit inside of Kek, their heads could be attached to the suit so that it looked like they could).
Kek Powerizer is quite a strange set, being the largest Galidor figure, he had nothing to Glinch with. This is ironic, because in the story the suit was supposed to enhance the wearer's ability to Glinch. The main feature of Kek Powerizer is the game system embedded in his back. By moving Kek different ways, the user could play 23 different levels of the game. Like a Gameboy, but stuck in a 12-inch figure and with only one game. Sounds fun, right? The market didn't think so, either. One extra feature of Kek was that he could respond to the Galidor TV show, by speaking or activating game levels. This is kind of advanced, but also fairly useless…
Given the popularity of Toys-to-Life video games like LEGO Dimensions today, it appears that Kek Powerizer was a solid decade ahead of his time.
---
Galidor, for all its negatives, was in fact quite similar to several other popular LEGO themes. However, two large flaws (a lack of building and a dull TV show) led to its downfall. Had Galidor had the advantage of a more LEGO System-compatible building style, and a few jokes thrown into its show, it may have just taken off, at least for three years.
You say you actually like Galidor? Good news! Since there is a large supply of Galidor out there, and next to no demand, whole sets of sealed figures can be picked up for around $10.
Sponsored content