The Police, Fire Brigade and Coast Guard are a constant presence throughout the LEGO CITY theme, due primarily to the popularity of those subjects with children. Medical services, on the other hand, are less common so the unveiling of 60204 City Hospital in April was received with considerable excitement.
Not only is this the first LEGO CITY hospital since 2012 but it is also by far the largest such model yet, containing 861 pieces. Furthermore, the set includes an impressive selection of twelve minifigures as well as two emergency vehicles and its price of £69.99 in the UK or $99.99 in the US therefore seems quite reasonable to me.
Minifigures
Several medical staff work at the hospital, the first of whom are two male doctors. These figures share a new torso that features a white coat and medium azure scrubs which look very realistic and I like the stethoscope hanging around their necks as well. Dual-moulded legs would have been perfect here as the doctors' coats should be slightly longer, although the plain legs are adequate in my opinion.
One of the doctors includes a dark tan beard and matching hair piece while the other seems younger, sporting tousled hair and a confident smile. The older character's slicked hair style is fairly rare in dark tan, having only been used in two previous sets, so I am pleased to see it once again on this occasion.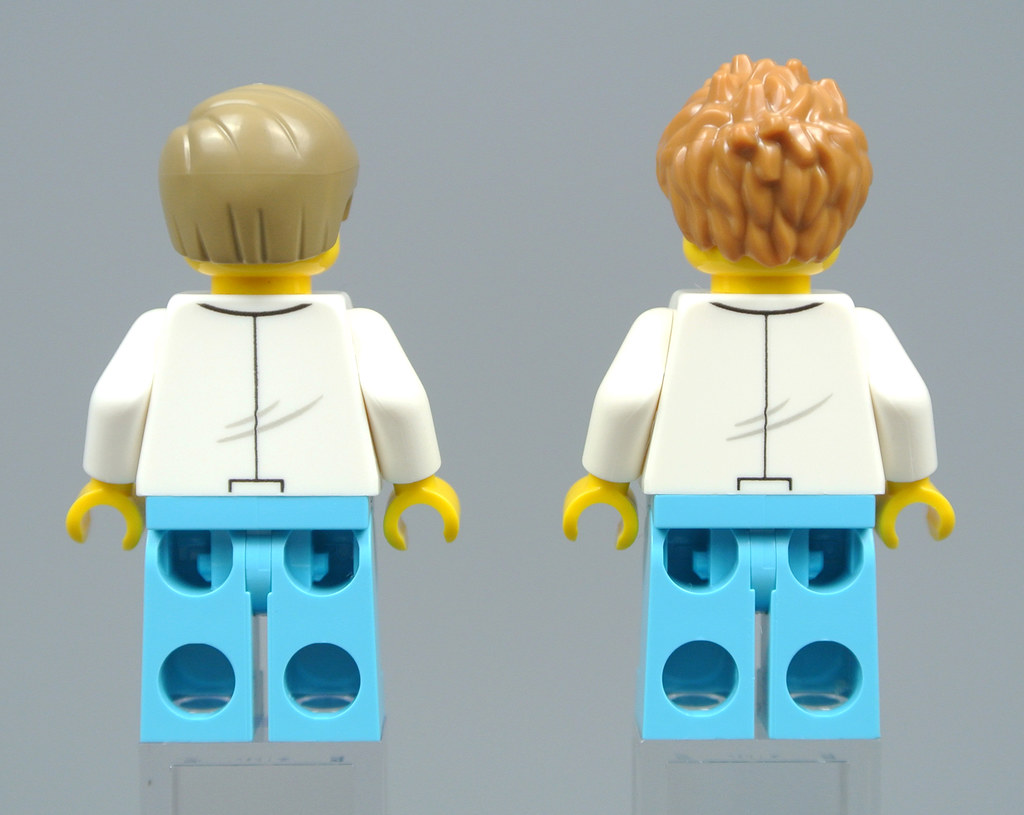 View image at flickr
Two female staff are also included. The first appears to be a consultant, wearing a light bluish grey shirt beneath her jacket along with an identification badge on the lapel. This torso was originally designed for scientists in the Volcano Explorers subtheme but is equally suited to a doctor and I love the new blonde hair piece which is nicely textured. It is only otherwise available in 10261 Roller Coaster in this colour.
View image at flickr
The second female minifigure features another new torso, decorated with the blue Star of Life on both the front and back. Her head and hair piece look superb but I believe these two characters might also have benefited from dual-moulded legs as the transition between their white coats and medium azure scrubs seems rather abrupt, particularly on the blonde-haired figure.
View image at flickr
A pair of paramedics complete the medical staff. These minifigures both appeared in 60179 Ambulance Helicopter earlier in 2018, even including exactly the same head designs which is somewhat surprising. Greater variation would undoubtedly have been welcome and I think the helicopter pilot's white helmet is too plain without a printed emblem above the visor. The ambulance driver's combined hat and hair piece looks brilliant though.
View image at flickr
The paramedics wear differing jackets, both of which feature some metallic silver high-visibility strips along with the Star of Life insignia. These details are delightful and each uniform feels appropriate for the role of its wearer. A vast collection of medical accessories are included, ranging from syringes and scissors to stretchers and sample containers.
View image at flickr
Six additional minifigures depict patients or visitors to the hospital. Images on the packaging suggest that the two characters shown below are new parents to a tiny baby figure, although they seem quite generic so could fulfill any required role. The female figure wears a pale blue knitted jumper with an attractive pattern while the male sports a green sweater which looks rather plain by comparison.
View image at flickr
Moreover, his reddish brown hair piece lacks textured detail in relation to the woman's blonde style but I am always glad to see this classic component in continued use, especially since it was replaced with a new part on Han Solo. The female character comes with an aqua bottle for feeding the baby while the male figure brings a small bunch of pink flowers.
View image at flickr
An adorable baby figure was introduced in 2016 and appears for a sixth time in this set. The medium azure bodysuit is new and looks marvellous while the head has been moulded with a neck, following the recent examples of 70643 Temple of Resurrection and 70657 NINJAGO City Docks. This represents an improvement over the original design in my opinion, although I do wonder why LEGO deemed it necessary to make such a subtle change.
View image at flickr
Another patient wears a medium nougat argyle jumper which is only available in a total of five sets and looks great, featuring an attractive diamond pattern on the front but no printing on the back of the torso, unfortunately. The dark tan trousers look good in combination with the jumper and I like the minifigure's black hair piece too.
However, the highlight of this minifigure is definitely its unique head. One side is decorated with a pair of enormous glasses and a smile while the other appears to be squinting, thereby suggesting that the character is visiting the optometrist on the hospital's first floor. This expression might also be suitable for a minifigure who is feeling unwell.
The two final minifigures have suffered injuries at work so are still wearing their decorating and mining uniforms. I like the paint splatters across the decorator's bib and brace overalls as well as his bearded head which has appeared in just three sets. 41318 Heartlake Hospital included a brand new arm cast component and that is available for the third time here. It slots over a minifigure hand very neatly and features lovely texture.
View image at flickr
The miner's head bandage is similarly rare, appearing in four other sets. He also comes with a reddish brown hair piece and a white helmet while his intricately detailed orange and dark blue attire matches that worn by the miners introduced at the beginning of this year. I enjoy these elements of continuity between different sets.
View image at flickr
The Completed Model
This set contains almost everything one might expect to find at a hospital, including a wheeled cot for the baby and a blue pushchair for when it is time to bring the baby home. The same pushchair design previously appeared in 60134 Fun in the Park - City People Pack beside a light bluish grey wheelchair which is also available here. A dark azure crash cart completes the range of wheeled accessories and features two opening drawers along with some medical equipment, permitting a wide range of options for play.
View image at flickr
Ambulances are only slightly more common than hospitals in LEGO CITY and this example is far better than any previous model in my view. Its white and red colour scheme is reasonably common across the world and the shape of the vehicle looks marvellous, combining facets of several real designs. Trans-light blue works perfectly as an accent colour and stickers are applied to add some extra detail where necessary.
View image at flickr
The front of the ambulance includes some headlights and a stickered number plate so closely matches the typical design of LEGO trucks. However, the exposed light bluish grey studs in the centre are rather unusual and look very striking, providing some welcome texture to a model which is almost entirely free of studs! There is a seat for one minifigure inside the cab where you will also find a steering wheel and a printed dashboard element.
View image at flickr
Several more warning lights are present on the rear of the ambulance and the Star of Life emblem also appears on either side. I love the light bluish grey radiator grilles and the blinds that cover the windows are a nice idea, although the white printing on these stickers looks washed out which is a shame. The proportions of the wheels, on the other hand, are excellent and I am very satisfied with the trans-blue lights on the roof.
View image at flickr
The transport section is cramped, allowing you to slide the stretcher inside but leaving no space for a supervising paramedic or any medical equipment. This is probably the weakest aspect of the model as I think the designer could quite easily have included a heart monitor display or even an intravenous drip clipped to the wall. Nevertheless, the hinged rear door is excellent and this is undoubtedly my favourite LEGO ambulance yet released, surpassing even the tremendous 4431 Ambulance from 2012.
View image at flickr
Helicopters are very common across the LEGO CITY theme and this model feels unremarkable, using the standard trans-light blue canopy and a large landing skids component. Even so, it offers great play value and maintains the red and white colour scheme of the ground-based ambulance as well as the hospital itself. The canopy opens smoothly and includes some simple controls and there are clips for accessories on each side.
View image at flickr
A storage box is attached to the landing skids and this contains a trans-neon orange vial which could represent a variety of medical fluids. Some helicopters do include external storage but this box seems very large in relation to the rest of the helicopter. The main rotors might also have been improved and it is surprising that there is no room for a second minifigure, presumably because the helicopter provides emergency assistance before the road going ambulance arrives to transport the patient to the hospital.
View image at flickr
An octagonal landing pad for the helicopter is also included. These frequently appear on the roof of hospitals and police stations in LEGO CITY but this simple structure is entirely separate, allowing you to place it wherever you wish. The landing skids fit perfectly around the yellow 'H' symbol and there are two trans-orange lights marking the edges of the pad which look pretty good.
View image at flickr
The hospital itself measures just over 26cm in height and is an unusual shape, presenting two walled sides which are entirely enclosed and two open areas for reaching inside. I like the combination of red and white throughout the model as well as the trans-light blue windows and light bluish grey stripes that delineate different floors. This represents an improvement over 4429 Helicopter Rescue, although certain features of the 2012 set remain intact.
View image at flickr
A large sliding door allows access to the hospital foyer and there is a ramp for wheelchairs and pushchairs. I like the trans-yellow light on the underside of the porch and the signage feels realistic, showing a confusing series of directions to the parking area, accident and emergency, the optometrist, the delivery suite and the information desk. The arrows do reflect the locations of each department within the hospital but are difficult to follow!
View image at flickr
Ambulances can park directly beside an entrance to the accident and emergency department where one finds a radio clipped to the wall, a blue siren and two floodlights. This area of the model includes some great stickers which could prove invaluable if you are intending to build your own hospital and the interior is accessible via a ramp, again taking account of the wheeled accessories included in this set.
View image at flickr
There is plenty of room for minifigures in the foyer but no reception desk is included. Instead, patients are added to the system using a computer in the corner. A sticker on the monitor displays silhouettes of three such patients alongside some data about each one. I think a reception desk would have improved this area of the model, forming a central point to the entire hospital, but I like the chair and table in here.
View image at flickr
The other side of the room features a small kiosk where you can purchase refreshments, a newspaper or even a small LEGO set which is represented by a printed 2x2 tile showing 60067 Helicopter Pursuit. This is excellent but actually reaching the kiosk is quite difficult as the columns that support the upper levels obstruct access to this one. Unfortunately, the hospital cannot easily be split into two parts and removing the roof does little to improve the situation. This feels like a significant design flaw so might require some modification.
View image at flickr
Accessing the next level would be equally challenging but this section can be divided in half, as shown in the images below. Many LEGO fans have expressed frustration that buildings sometimes feel unfinished as a result of their open back, although this is vital for play. Nevertheless, it feels as though the designer of this set tried to enclose the hospital as much as possible, albeit without compromising access to the interior thanks to its modular structure.
View image at flickr
The optometry department occupies part of the first floor. A large sticker is applied to the wall and this features two eye charts which look fantastic. One is designed for children so includes a variety of well known LEGO elements such as teddy bears and trees while the other is decorated with a series of letters, reading 'IF YOU CAN READ THIS YOU HAVE GOOD VISION'. The lens machine is mounted on two ball joints so can move to suit minifigures of any height and a monitor by the wall displays a cross section of the eye which looks superb.
View image at flickr
A research and X-ray area is situated on the other side of this level, containing a small chest of drawers with a microscope on top, an anatomical skeleton and a working projector for X-ray images. Light bricks have only appeared in a few sets in recent years so I am delighted to see one here, particularly since inspiration for this function appears to have been taken from 8635 Mobile Command Centre which is one of my favourite sets.
View image at flickr
The projector works perfectly. Each of the three slides can be placed in front of the light brick and the images will then be projected on the wall at a larger scale. They show different areas of a minifigure's anatomy and reflect aspects of real minifigure design, displaying a familiar connection between an arm and a hand, a ribcage which matches that of LEGO skeletons and a digestive tract that contains some LEGO cherries! It should be noted that the light bluish grey bracket shown holding the button below is not included.
View image at flickr
No staircases are included as most of the space is dedicated to furniture. This might disappoint some people but I believe the designer was correct to focus upon interior detail and functions. The next floor features a delivery room which includes a bed, a cot for the baby and an articulated light fixture. This area can double as an operating theatre and I like the little balcony outside, although a larger floor space would have been even better as it is only two studs deep at the moment.
View image at flickr
A vital signs monitor is connected to the bed and there is a large sticker on the wall, showing a selection of cartoonish sea creatures. Many of the stickers in this set are printed on a clear sheet which is a shame as any captured dust or air bubbles will be shown very clearly, especially in the case of bigger stickers. The decorative sea creatures look wonderful though and there are two bottles on the side, perhaps containing nitrous oxide or ultrasound gel.
View image at flickr
The roof is very simple, featuring a black aerial and a small air conditioning unit. You could fit the helicopter landing pad up here if you wish but more room for minifigures is always welcome too. This section, like those on the lower floors, is attached to the walls below using only a few studs so it can be removed with ease, thereby allowing more light into the delivery room and providing another means of access for play.
View image at flickr
Overall
This is a magnificent set. The hospital looks brilliant from the exterior and includes tremendous interior detail, exceeding even the high standard set by 41318 Heartlake Hospital last year. It would have been nice to see a ward area or a proper reception desk in the foyer but I think the exclusion of such features is justified as creating a larger set would inevitably result in a higher price and I think the existing cost of £69.99 or $99.99 is ideal.
View image at flickr
In addition, the set comes with an impressive selection of minifigures which allow you to fully occupy every section of the hospital as well as both of the vehicles. 60204 City Hospital therefore receives my highest recommendation! Not only does it offer sensational play value but it looks fantastic on display and is an absolute must-have for any LEGO CITY fan.
I hope you have found this review informative. Let us know by liking this article and share your thoughts on the set in the comments below.
Sponsored content