Unikitty proved to be among the most popular characters from The LEGO Movie and will soon be returning in The LEGO Movie 2: The Second Part. However, it would seem that her cheerful personality has hardened upon witnessing the destruction of Bricksburg by DUPLO invaders, hence the emergence of Apocalypseburg Unikitty!
This figure was given away at San Diego Comic-Con in July, coinciding with the announcement of 70827 Ultracatty and Warrior Wyldstyle. I am looking forward to that set very much indeed but this version of the character, constructed at her traditional smaller size, looks brilliant too.
Minifigure
Apocalyseburg Unikitty bears a close resemblance to the Angry Kitty from 70814 Emmet's Construct-o-Mech, featuring an attractive red and flame yellowish orange colour scheme. I love the printed flames on the legs and Unikitty wears an intimidating headband which is decorated with a row of metallic silver bolts. The horn is attached using a 1x1 round plate with a hollow stud which has not appeared in dark bluish grey before.
View image at flickr
Two different facial expressions are included and these are printed on separate 1x3 bricks. The first is decorated with a severe grimace while the second appears extremely angry! I love the flames around Unikitty's eyes and the jagged teeth look superb. Another 1x1 round plate with a hollow stud links the head to the body which is interesting as the recent Unikitty! sets introduced a much sturdier method. On the other hand, this design does match the teaser trailer for The LEGO Movie 2, despite being relatively fragile.
View image at flickr
Unikitty's tail has been updated with three dark red spikes, reflecting a change in her personality. This new element looks brilliant and I like the pearl silver arrow which is clipped to the side of the figure too. Bricksburg has evidently become more dangerous following the events of The LEGO Movie and every character now appears more aggressive so the addition of a weapon does not seem out of place.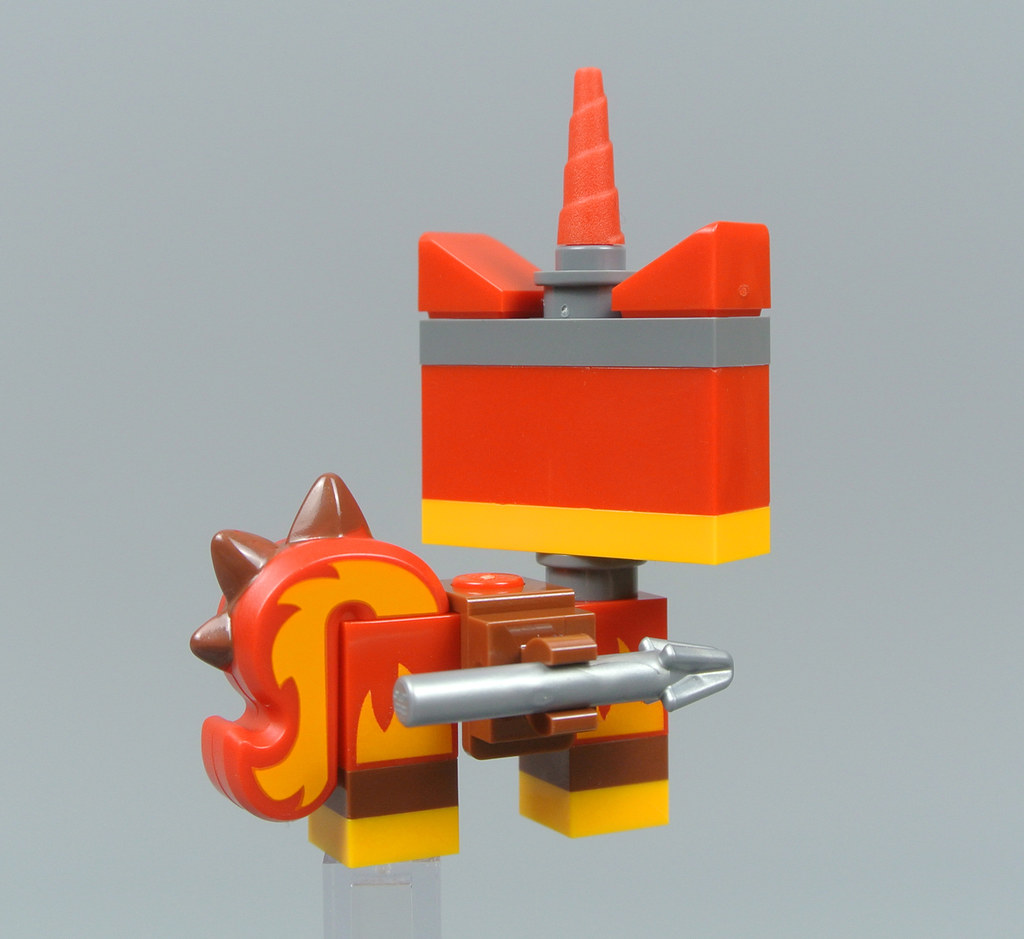 View image at flickr
Overall
An impressive selection of different Unikitty figures have been produced during the last few years and Apocalypseburg Unikitty is among the best designs yet in my opinion. Her new tail looks brilliant and I like both facial expressions, although the Rage Kitty variant shown below is particularly appealing.
View image at flickr
View image at flickr
LEGO has already unveiled three upcoming sets based upon The LEGO Movie 2: The Second Part and Apocalypseburg Unikitty does not appear in any of them. Nevertheless, I am very confident that she will become more widely available soon, albeit presumably with different facial expressions.
I hope you have found this review informative. Let us know by liking this article and share your thoughts on the figure in the comments below.
Sponsored content