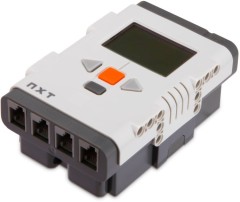 Do you own an NXT 'Intelligent Brick' with a flickery or non-working display? Steven Canvin, LEGO's Community Manager for LEGO MINDSTORMS, has asked us to pass on this message -
"Unfortunately, some of the NXT Intelligent Bricks manufactured in-between 2006 and early 2008, may have a faulty display, resulting in a flickering or non-working display.
"LEGO Corporate Management has decided that any NXT Intelligent Brick manufactured with this malfunction of the display will have an extended guarantee beyond the standard guarantee. The LEGO Group offers to replace NXT Intelligent Bricks with the above-mentioned faulty display.
"The NXT Intelligent Bricks would be found in:
Retail set 8527 (version 1.0 and 1.1)
LEGO Education set 9797
Item 9841 NXT Intelligent Brick (or similar sold through LEGO Education distribution)
"If a user wants to have a NXT Intelligent Brick replaced based on this quality issue, please ask to contact LEGO Consumer Service, contact information available on the web for your country. Please note that the display needs to be defect."
Steven has asked that if you think your NXT suffers from this problem, please check the battery first before contacting LEGO customer support, as similar issues are seen when the battery is running low on power. Only NXTs with a genuinely faulty display will be replaced.