This article has been written by guest contributor Jason "Joefish" Railton:
In England, we have a quirk of historical climate to thank for the Victorian dream of a white Christmas, with thick snow all around to sleigh through and make jolly magical snowmen. Then there's Greg Lake's 'I Believe in Father Christmas' on the radio each year to remind us that it usually just keeps on raining.
So while a few might still 'look to the sky with excited eyes', I ask if 'the snowmen we get we deserve'...
---
So, Christmas has come and gone and for many of us, the snow has yet to arrive - if it ever will. But at least now, while we shoo those last partridges from the pear trees, I won't be spoiling anyone's advent calendars. Much. You see, we find a new attempt at a snowman every year in our advent calendars, and each time there's that feeling that they still haven't quite cracked it yet. Let's take a look and see if there's anything we can do to help.
Now I'm not talking about brick-built snowmen; last year's 40093 Snowman was delightful, as was his reindeer friend (you see, those close-together eyes can work, but only on a chunky figure). And we've seen some great polybag snowmen too. But when it comes to making ones small enough for our minifigures to play with, the record is not so good. Let's begin with a look at the most recent offerings from the 2016 advent calendars.
---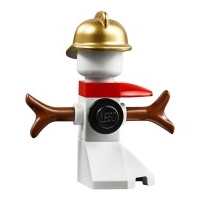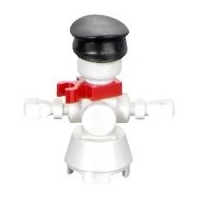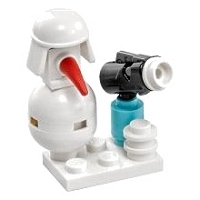 CITY gives us one with convincing stick arms and a scarf frozen in the horizontal position, but an oddly angular base and narrow body with over-hanging head. The lack of carrot nose, or any facial features, will be seen to be a common theme. The shiny helmet is a nice rare part, but casting a man of ice as fighter of fires seems oddly inconsiderate.
Friends gives us something more akin to a train driver - though again, standing on a hot footplate seems a short-lived career choice for our frosty friend. To further the image he almost appears to be made from train parts himself - a boiler for a base and linkages for arms. A more worrying explanation, that those are indeed skeleton legs, does not bear thinking about.
Lastly for this year, Star Wars gives us a comedic offering. We have a realistic rounded body with narrower head - I shall assume that's a real helmet rather than question the integrity of fashioning one from snow. We also have a nose! Though a red chilli pepper substitutes for a carrot. But ultimately, a fully armed and operational battle snowman might hardly be trusted to play nicely with the children.
---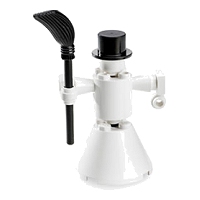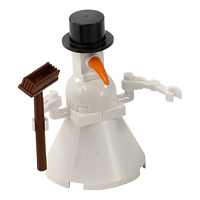 So, have past advent calendars been any better? Well, not really. Past CITY calendars have given us these disturbing constructs - taller than minifigures and with oddly configured arms (in 2008, 2009 and 2010). The first wields a broomstick in an aggressive manner, as if chasing off the very children who made him. The second, though having a pleasing minifigure scarf, features oddly grey parts and has been run-through with a broom handle. Perhaps this is some superstitious act to prevent him springing to life at the stroke of midnight, or from flying to the North Pole to meet Santa without filing a proper flight plan with Air Traffic Control, but it just seems cruel. The third features eerily skeletal arms, but at least has a wilted orange carrot for a nose. Now one must respect the capital sporting of top-hats all-round, but overall, these sinister conical designs just jog too many memories of Dalek invasions past.
---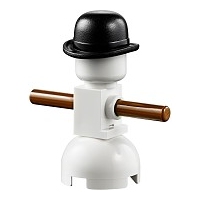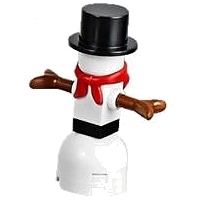 CITY has given us some slightly more structurally sound snowmen with domed bases in 2014 and 2015, yet the first sports a bowler hat more in the manner of a thuggish bodyguard than a city gent, and has again been run-through with a pole. His companion uses sticks for arms, has a more gentrified scarf and hat, but is made taller by the odd inclusion of a black plate. The narrow bodies and overhanging heads (with no noses) are still notable failings. Perhaps Friends can do better?
---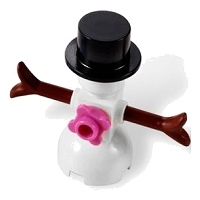 Well, in Friends calendars (2012, 2015), the Heartlake City-Girls seem to prefer to decorate their snowmen with flowers rather than scarves. The first model seems a little better than those CITY ones, yet the second seems spoiled by an attempt to make the mid-section rounder. From the front view, that disc succeeds, but an angular view spoils the effect. Again, no noses.
---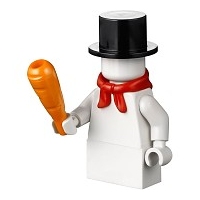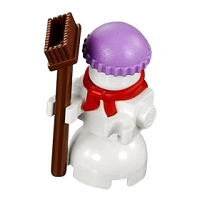 Back in 2012, CITY gave us this more life-like chap. Perhaps uncannily so for some tastes, with his lifelike arms but cold, faceless, erm, face. Although maybe this is a minifigure in disguise, standing perfectly still to jump out and surprise passers by. Then crying "It's only a prank! It's only a prank!" when they report him to the police. Maybe the 70s hands-in-pockets torso would be better. But here we see the problem with the LEGO carrot - the attachment point is at the narrow end, so fitting it to a snowman leaves the fat end sticking out - as if he has some sort of trumpet for a nose.
Friends, in 2013, gave us a Mary-Poppins inspired cheeky scamp of a chimney sweep in snow - the domed base, scarf and mauve woolly hat giving him a friendly appearance. Though the gripping hands seem a little uncanny. Like some sort of animatronic robot rather than a simple child's effigy of snow and twigs.
---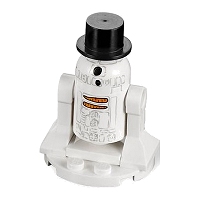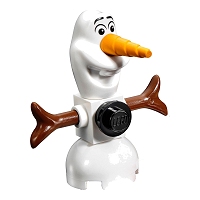 And lastly, some guest appearances. Whether this is a snow-droid or a repainted R2-D2 has been a matter of debate since his appearance in 2012. But the printed carrot actuator arms are commendable nevertheless. Now Olaf has not appeared in an advent calendar, but can hardly be ignored. This is perhaps the best way his character could be realised - the moulded head is nicely detailed but leaves him top-heavy. He does bring us one generous gift - the unicorn horn in orange is an ideal 'inverted carrot' nose, and the 41066 Sleigh Adventure gives us several of this part.
So, in conclusion, LEGO's minifigure snowmen have been weighed, and have been measured, and have been found - well, a bit rubbish, really. Sorry, but in my most humble opinion, we have yet to see their masters of design master this particular seasonal regular. Surely someone could at least design a printed snowman face, with orange carrot nose and coal eyes and mouth? It could be re-used every year to improve many of the designs we've looked over.
But in the end, I'm only a critic, and the life of the critic is all too easily refuted with an accusatory "I'd like to see you do better". So, here then, is my offering to the wintry world of LEGO - a glimmer of joy for your minifigures in this cold season. An original snowman model for the wonderful readers of Brickset.
Happy Building to all. And to LEGO? Bring on 2017!
View image at flickr