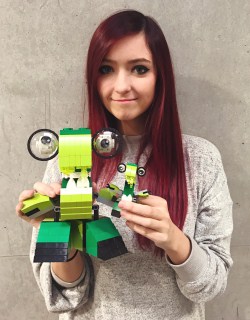 Gemma Anderson has been working at The LEGO Group as a set designer since May 2013, and helped create the wacky, wonderful Mixels for store shelves starting in 2015. That ended this year, unfortunately.
Now that the theme is over, and in light of her upcoming role on the judging panel in our Mixel-Making Competition, we asked her about what she does and what she brought to the Mixelverse during the theme's spectacular run.
---
Tell us a bit about yourself. When and how did you come to work at LEGO? How did you come to work on Mixels? Have you worked on any other LEGO themes?
I started with The LEGO Group almost 4 years ago and I was hired as part of the Creator team but as I am a fan of both collectible vinyl toys and character design, I was asked to work on LEGO Mixels. Mixels is such a fun line to work on as you can make such a huge variety of different characters with LEGO bricks, using any element you want.
What has been your involvement with Mixels? Were you involved from the start of the theme? Can you briefly describe the creative process from turning an initial idea on paper into a tribe of Mixels?
I started working on the line around Series 4. The process usually involves doing some research on the theme, then sketching and finally grabbing as many cool and colourful bricks as I can to make a little character. My favourite thing to do is use elements in unusual ways, for example to use bananas for eyebrows or a moustache.
How did you go about giving names and personalities?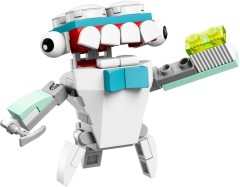 The eyes and mouths are a huge part of the personality of the Mixel, changing the eyebrows for example can drastically change the expressions from sad to happy, or even angry! We would often brainstorm on the names of the character; some of them might be inside jokes with the team. One example is 'Tuth' in Series 8, it was a joke in the team that me being from Wales, I pronounce some words a little differently, such as 'tooth' sounding more like 'tuth'. We decided during the naming process we would try to name that one Mixel how I pronounce it (And we succeeded!).
Where did inspiration for the tribes come from?
Inspiration came from everywhere! Anything can be a character, which is cool because you could look at everyday objects and wonder what characters they could be and what their personalities would be like.
---
What has been your favourite feature incorporated into the Mixels you've designed? (e.g. turntables, projectiles, or other play features)
I think my favourite feature will always be the grey bananas for eyebrows! Or perhaps magnifying glasses for eye glasses.
What piece introduced in Mixels, like the mini ball joints or the multiple types of eyes and teeth, is your favourite to use?
Probably the mini ball joints, they give so much movement and pose ability to models.
Did you design the Max models corresponding with the tribes you designed? How were they designed with the individual Mixels sets in mind?
During the sketching phase, I would consider what the tribe theme is and then work out what the max could be, at the same time wondering how I can use certain parts from the Max in the 3 small Mixels. It's often a case of going back and forth between the 3 models and the Max.
---
What is your favorite Mixels tribe and/or individual character that you have designed, and why? What is your favorite tribe and character overall?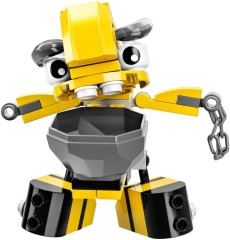 That's such a tough one but I would say my favourites are the Weldos! I think you really have a good selection of characters from goofy to bossy, and the theme of construction is really cool.
What would you say is your favorite thing about the Mixels world?
Probably the never-ending possibilities and combinations you can make with all the tribes, I love that you can create pretty much anything you want and it's never wrong.
Describe your dream Mixels tribe. Perhaps one of our contest entrants could whip that up…
Too many to list! Although I think I'll save the surprise and wait and see what everyone comes up with. :-)
Finally, is there any advice you could give to aspiring builders entering our competition?
Don't hold back, if something seems too crazy then keep going with it! Some of my favourite Mixels have often been the ones that started as crazy initial ideas. The more creative the better, you really can't go wrong with it. Most importantly, have fun!
Thank you very much for your time, Gemma!
---
We are hard at work judging the competition and will have the results by the end of January. Stay tuned!