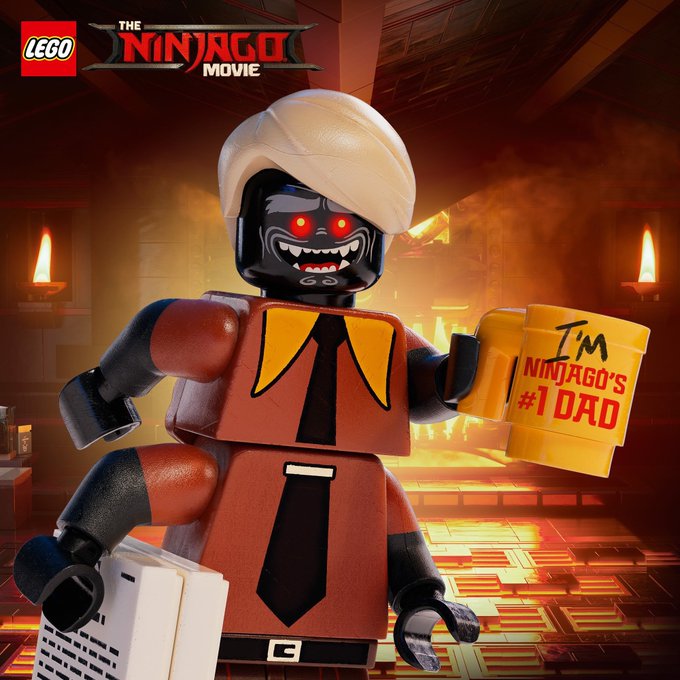 Thought The LEGO NINJAGO Movie news was over for now? Not quite, fortunately (or unfortunately, depending on your stance)! In addition to the 70613 Garma Mecha Man images from earlier today, more Lord Garmadon related news comes in the form of a tweet from NINJAGO design lead Simon Lucas.
In the tweet, Simon wishes us a happy 'Garmadon Day', of course referencing the fact that Garmadon is Lloyd's father. He also attaches an interesting photo with a brand new variant of Garmadon. The photo portrays Garmadon exhibiting a brown business suit, tie, toupee, papers and mug. The orange mug sports the text "NINJAGO's #1 DAD", with the word 'I'M' humorously scribbled in above it. Take a look at a larger photo, and further analysis, after the break...
Could this version of the evil warlord be part of the film's upcoming Collectable Minifigures slate? I very much hope so! It would certainly be a cheap way to acquire Garmadon, no matter the minifig's huge differences compared to his normal getup.
My curiosity also is piqued regarding why Garmadon appears like this. Was this before he truly became a villain in this universe, despite the black skin? Is it a disguise? I'm sure we'll find out in September.
Let us know what you think in the comments below. Please also tell us what other minifigures you expect or desire to be included in the CMFs, as well.
Sponsored content