The Mighty Micros subtheme is now entering its third year and provides a perfect opportunity to collect a selection of popular characters from DC and Marvel, albeit in a very comic style, at a relatively reasonable price of £8.99 or $9.99.
I have been looking forward to several of the new sets but none more so than 76094 Mighty Micros: Supergirl vs. Brainiac. Not only does it include two of DC's best known characters but the set also comes with a printed accessory representing Kandor, the capital city of Krypton which was stolen and miniaturised by Brainiac in a famous comic book storyline.
Minifigures
Four previous sets have included Supergirl but this version is very distinctive, featuring a medium blue torso and the short legs which are typical of the Mighty Micros series. I like the simple belt printed on both sides of the torso and this bright shade of blue makes a welcome change from earlier designs. The blonde hair piece looks great too and is very rare, having only appeared in 41314 Stephanie's House before now.
Supergirl wears a short cape which is made from a soft fabric, ensuring that it will not become creased when the minifigure is placed in her vehicle. The face is highly stylised and features large eyes as well as an enormous grin. I think it works well in the context of this set, although an alternative face with a more traditional expression would have been ideal.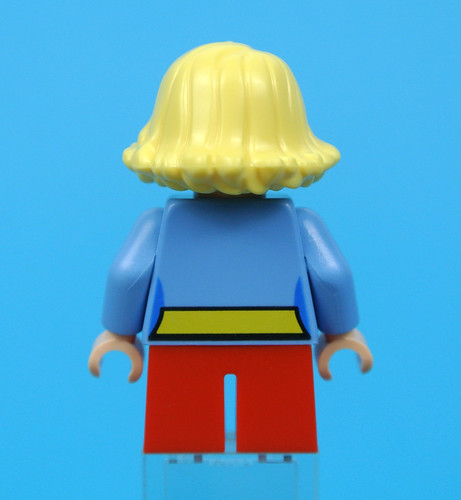 Brainiac is equally stylised, wearing a black suit with some metallic silver armour and pink tubing on both sides. This looks fairly simple but is faithful to the villain's traditional design and I love how the pipes bulge in an almost comical manner, as though they are coursing with energy. Brainiac's angry expression is fun too and both sides of the head are printed with some pink electrodes to match the torso.
The minifigure from 76040 Brainiac Attack is much more detailed than this one, as expected. Even so, I am pleased that such a popular character has appeared in another set, allowing those who missed the 2015 figure to add him to their collections now. Hopefully a more threatening version with standard legs and a little more detail will soon be forthcoming.
However, the highlight of this figure is definitely his accessory. Kandor was Krypton's capital city before being captured, miniaturised and placed in a bottle by Brainiac. The city is printed on a 1x1 round brick and looks quite accurate to the comics, featuring towering buildings and a silver plaque that shows the name of the city on the base. Furthermore, Supergirl comes with a functioning magnifying glass so she can peer into the bottle!
View image at flickr
The Completed Model
Kara Zor-El's vehicle appears to take inspiration from the spacefaring pod in which she was delivered to Earth. The dark azure, red and yellow colour scheme is quite attractive, loosely resembling that of Supergirl herself and featuring three fins set around a pair of trans-orange rockets. I like the El family emblem which is printed on a slope at the front and the pearl silver radiator underneath looks good too.
View image at flickr
The model rests on four narrow wheels so looks fairly sleek. Another printed slope is placed inside the cockpit and there is just enough room to stand a minifigure behind the controls. Some Mighty Micros look rather odd with a figure in the cockpit as their arms need to be raised above the bodywork on either side. Fortunately, this model has no such problems as Supergirl stands slightly higher than the minifigures in many other sets.
View image at flickr
Brainiac's spacecraft is definitely the more interesting of the two cars, featuring an unusual bubble canopy and an impressive skull decoration. This design matches many of Brainiac's vessels but still maintains the distinctive Mighty Micros style as its proportions have been dramatically reduced while several recognisable features remain intact. I particularly appreciate the skull printed on the front and the trans-bright green eyes are very striking, although they may look even better if they were positioned a little higher.
View image at flickr
The trans-clear bubble canopy hinges open to access the cockpit, revealing a simple steering wheel and a slot for the minifigure. Brainiac does partially obstruct the cockpit canopy, although not nearly as much as I was expecting and I think the vehicle looks superb with or without a figure in place. I like the uneven wheel sizes too, suggesting that the rear tyres are extremely powerful.
View image at flickr
Two more trans-bright green 1x1 slopes represent tail lights. These really stand out against the muted black and light bluish grey bodywork and balance the colours at the front of the model very effectively. The trans-pink thruster is also rather nice, matching Brainiac's tubing. It can be angled up and down, perhaps allowing the vehicle to hover for short periods or make a rocket assisted jump.
View image at flickr
Overall
I have enjoyed the Mighty Micros range very much over the last couple of years and 76094 Mighty Micros: Supergirl vs. Brainiac is a marvellous addition to the line. Both minifigures are suitably stylised but still include some nice detail and the two vehicles definitely reflect the character of their respective drivers. Brainiac's car is particularly impressive, including an unusual canopy and a great skull design which matches many of his spacecraft in the comics.
View image at flickr
However, my favourite aspect of the set is the Kandor accessory. This tiny bottled city looks magnificent printed on a 1x1 round brick and having such a famous item from the comics in LEGO form is an absolute delight. Ultimately, Mighty Micros are not for everyone but I think this is an excellent set and would certainly recommend it.
I hope you have found this review informative. Let us know by liking this article and share your thoughts on the set in the comments below.
Sponsored content