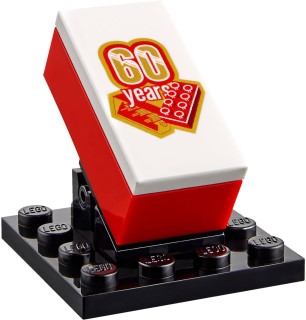 LEGO filed a patent for a new toy building brick at 13:58 on the 28th of January 1958, exactly 60 years ago today. 40290 60 Years of the LEGO Brick has been released in celebration of this occasion and contains miniature renditions of four iconic sets.
This is undoubtedly a good start but there are many more products worthy of commemoration. We are therefore asking you to construct your own small model of a LEGO set released within the last 60 years, following the style of those found in 40290 60 Years of the LEGO Brick.
Find out what the prizes are and how to enter after the break...
---
Rules:
Models can be based upon any set released between 1958 and 2018.
Models should be smaller than minifigure scale, like those in 40290 60 Years of the LEGO Brick.
There are no specific size constrictions but your model should be about the same size as those in 40290.
You are not required to build a base for your model but may choose to do so if you wish.
Models should be built from real bricks: no virtual submissions will be accepted.
---
Entries will be judged on the following criteria:
Likeness of the model to the set being depicted.
Building techniques and parts usage.
Adherence to the rules.
---
How to enter:
Upload a maximum of two images of your entry to the Brickset Flickr group set up for this competition, or post your entry on Instagram using the hashtag #Brickset60YearsCompetition.
Your models should be new and unseen prior to this competition. Significantly updated models are permitted.
You may submit multiple entries.
Please include the set number and name of the original set in your submission.
Virtual creations in LDD, stud.io or other CAD program are NOT permitted. All submissions should be built with real bricks.
---
Prizes:
The first prize will include a signed copy of a recent classic, 21310 Old Fishing Store.
Other prizes have yet to be decided. Suffice it to say they will be worth winning!
---
Other information:
Please do not include any references to sex, drugs, alcohol etc. in your entry.
Custom and non-LEGO components are not permitted.
Although we will not be judging your photographic skills, please try to light your models evenly and photograph them against a clean background.
Please upload your entries by 23:59 GMT on the 18th of March 2018.
The winners will be announced shortly after.
The judges' decision is final and no correspondence will be entered into.
---
We will answer any questions you might have in the comments.
Good luck!