Next up in our series of Minecraft 2018 reviews is 21141 The Zombie Cave. You could say this is the sister set to 21140 The Chicken Coop as it is pitched at the same price of £19.99 / €19.99 / $19.99 for the same box size, but you do get a few more pieces – 232 in all.
There have been several zombie sets released in the Minecraft range before, so should we really care about another? I've built it in an attempt to answer that very question. Read on to find out after the break.
Here's the box, 260x190x60mm in an adult hand front and back, doing it's best to lure us in and part with money. It feels full – no complaints here.
View image at flickr
View image at flickr
Inside there are two numbered bags and an 84 page booklet cover to cover. The main build is 60 steps with a few pages prior devoted to the minifigs and detail elements.
View image at flickr
There's a few pieces of note. The new furnace printed 1x2 bricks are here, 1x1 petals in Lavender, neck brackets in Dark Brown, 1x1 with open stud in Reddish Brown and the most interesting for MOCers is probably the 2x2 corner recoloured in Orange. This appears in three 2018 Minecraft sets, albeit not in vast quantities, but it's a good piece to have out there in the wild. There is a new 1x1 plate with print for the Minecraft Bat and or course the two new parts that make up the Baby Zombie.
View image at flickr
For minifigs, we have to deal with the disappointment that is plain old Steve and a Zombie again, but we do get the cool Baby Zombie which I love and the brick-built Bat is also very well done. If the baby remains exclusive to this set, that'll be reason enough for some people to put hand in pocket and at least it's not in a silly priced set either. Good move LEGO.
---
The Build
There's about half an hour build here and I really enjoyed myself. The beauty of these small sets I've found is that there's nothing particularly repetitive and there's a decent variety of pieces to keep the interest up. Bag 1 takes us as far as the base shown here, plus the minifigs, blocks, ores and TNT.
View image at flickr
After working through Bag 2, we end up with this, and I think it's not bad at all. It doesn't stand out and grab me like 21140 The Chicken Coop does – as that one has heaps of originality – instead it's an honest, bread and butter £20 Minecraft set. In fact looking back at 2014's offerings I'd say this is 21113 The Cave regurgitated in a different style. That may or may not be a bad thing depending on where you sit and we'll come to that when I sum up.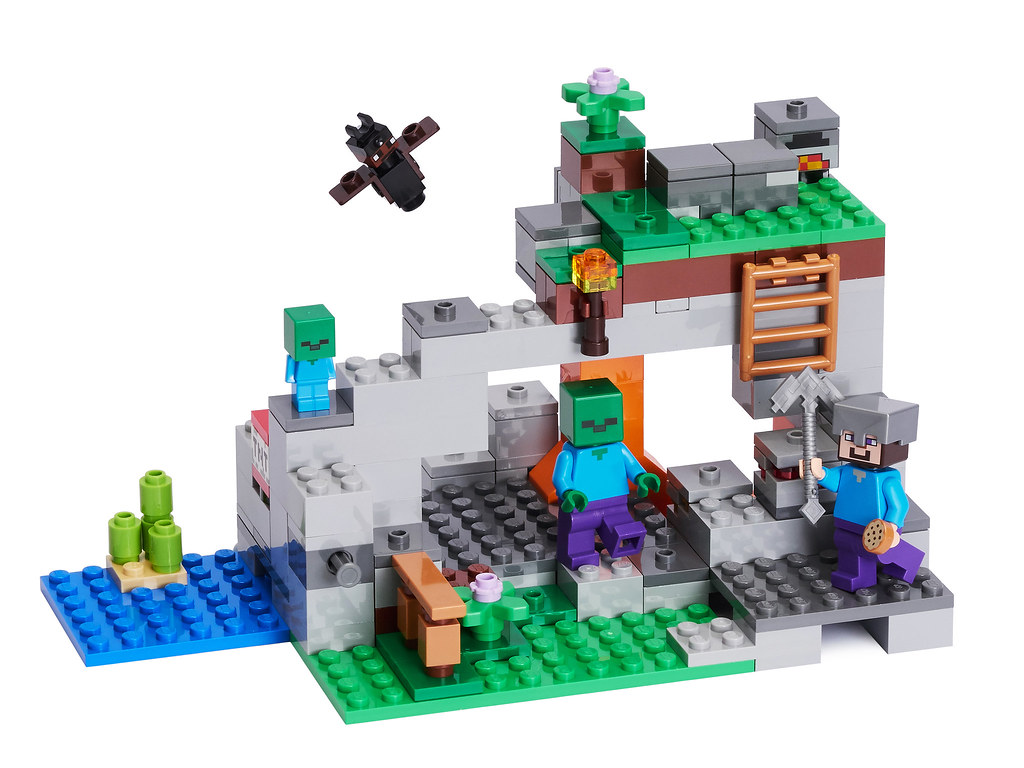 View image at flickr
So what have the designers put in for features? Well, up top you can clamber the ladder where you'll find a furnace – I'm warming a cookie on it. Note the two gravel blocks up there. There's a varied landscape of rock, grass, water and lava and there's a lot of handy jumper plates dotted around for easy placement of items.
View image at flickr
Looking at it from the rear you'll find a sliding tray mechanism by the furnace. Pulling on this opens a trap door and the gravel blocks fall through into the lava below.
View image at flickr
View image at flickr
The bat has a handy place to hang out. You take the wings off and refit them in reverse to fold up around the body which is a neat touch.
View image at flickr
On the base in the corner is another mechanism – a simple push rod and jumper. There is a small block and TNT build that fit onto this.
View image at flickr
Once the block and TNT is in place, it pushes a small technic rod through to the other side.
View image at flickr
And if you've read any of my previous Minecraft reviews you'll have a pretty good idea of what happens next... a quick test.
View image at flickr
Also found at ground level is a pile of rocks waiting to be mined. Give them a good bashing to reveal the diamond hidden within. Don't disturb the bat though! Also note the coal hanging at the top.
View image at flickr
View image at flickr
As well as the diamond and coal there is gold and redstone to be found in the cave. All in all there's a lot of blocks you can shuffle from place to place and jumper to jumper so it's all very flexible.
---
Overall
I think this is yet another successful set for the price. If you're a Minecraft newcomer, or need a small build for your kids this is a pretty safe bet. It has different play mechanics to 21140 The Chicken Coop so complements that very well and it's quite good fun really. On the basis that this is where you stand as a buyer then you can't go wrong for your £19.99.
The issue for existing Minecraft builders is that if you already have 21113 The Cave there's not enough on offer here to make it onto the "must buy" list. The Baby Zombie and Bat are certainly the things that will appeal to collectors, but it may not be worth grabbing at RRP just for those alone – despite it's reasonable cost.
This set feels like an upgrade, an evolution or a rejig. I'm not saying that's a bad thing as we see it every year with remakes in other themes, but it may be a reason that holds some back from buying.
I'll still recommend this set though. I believe it ticks all the boxes that it's meant to tick, pitched at a fair price for something IP based and the exclusive Baby Zombie is a nice bonus. As with all Minecraft sets it will integrate well in any existing layout and I'm really pleased that I picked it up. Minecraft 2018 has shaped up very well so far – I haven't built a dud yet and I hope it continues.
Disclaimer: Bat does not fly on its own!
View image at flickr
What do you think? Please let us know by liking the article or leaving some comments.
Sponsored content